Cairns Liveaboard Tours Ranked by Price
Keen on a seafaring couple of nights on the Great Barrier Reef? Dreaming of a scuba and snorkel spectacular? Overwhelmed by the options and don't know where to start? Fret not, my dear water babies. Welcome to our master list of liveaboard tours, where we rank boats on a scale of budget-friendly to bougie and deliver all of the need-to-know info directly to your screens. Liveaboards are the best way to see the reef, providing ample time in the water and giving guests the rare opportunity to fall asleep on the reef. They're also fully catered, so you don't have to worry about what's for dinner or added complications of packing groceries. If you don't have time for an extended liveaboard, check out our article on the best overnight tours in Cairns!
So, grab a glass of wine or a coldie and start planning your trip to the Great Barrier Reef, where a captivating underwater wonderland awaits ...
---
From $725, maximum capacity of 48
Get the best bang for your buck with Oceanquest's three-day, two-night tour to the Outer Reef. Embark on up to 11 dives or snorkels (your preference), and two night dives for divers. Connect with your inner daredevil on the first thrilling night dive with reef sharks, and see the reef in a different light on the second night's fluoro dive, where divers are provided fluorescent underwater torches that take the vibrance of the reef to an ethereal level. With a maximum capacity for 48 fun-loving water babies, Oceanquest is a guaranteed good time where guests mingle and make friends in the downtime. Keen divers also have the option to complete their PADI course on Oceanquest.
---
From $795, maximum capacity of 16
If adventure is your thing then get your thrill-seeking booty to the Rum Runner! All aboard an action-packed three-day, two-night tour to shark hot spot Holmes Reef. Holmes has a treasure trove of several breathtaking locations just waiting for you to explore their hidden secrets, including Amazing Caves, Nonki Bommie, the Cathedral, and Turtle's Graveyard. Embark on up to ten dives through thrilling caves, and bob and weave through towering bommies, pinnacles, and coral walls. And just when you think you've seen it all, dive deep below the sea on a night dive and see the reef come alive with the hustle and bustle of elusive nocturnal creatures.
---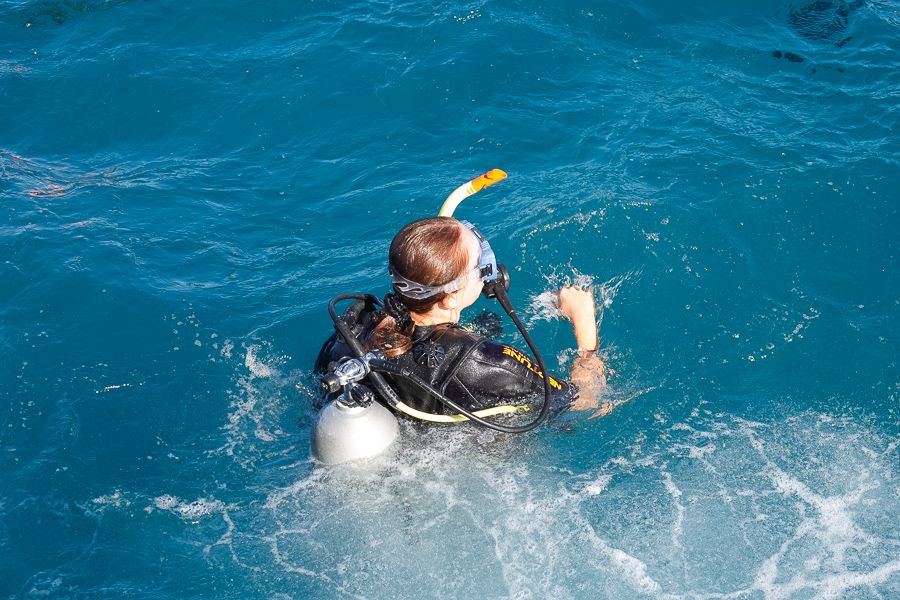 From $820, maximum capacity of 42
Reef Encounter's Learn to Dive liveaboard is the best way to find your flippers in the water and they offer the best prices! With a minimum of four students to an instructor you're guaranteed to score guidance and words of wisdom suited to your individual needs and diving levels. If you take to it like a duck to water, take your diving prowess to the next level and plunge into the dark depths of the reef under the moonlight on a night dive. And learn more about the secrets of the sea and its abundant marine life on a glass-bottom boat tour guided by knowledgeable marine biologists. Pick your poison between three days and two nights or four days and three nights (with up to eight and eleven dives, respectively).
---
From $965, maximum capacity of 42
Hit the Outer Reef where the reef is at the top of its game. Dive into the underwater wonderlands of Norman Reef, Flynn Reef, Hastings Reef, and Breaking Patches and discover countless coral gardens, tropical fish, reef sharks, sea turtles, and even minke whales if your timing is right! And shake up your experience of the reef with a glass-bottom boat tour where you can watch the oceanic traffic glide beneath your feet — this is as close as you can get without getting wet! Of course, there's a night dive up for grabs for the more adventurous and qualified divers too!
---
From $1770, maximum capacity of 32
Get up close and personal with seasonal Great Barrier Reef favourites, the minke whales. Minkes migrate north from the Antarctic every winter to breed and raise their cutesy little bubs on the Outer Reef. These big friendly giants love visitors and are known to get inquisitive with divers, so if you time your trip just right you might get to share the reef with these beautiful creatures.
Indulge in up to 10 dives on the Outer Reef, including explorations to the Ribbon Reefs and Agincourt Reef — both teeming with endless coral gardens, tropical fish, and sea turtles. And make a splash into the Coral Sea after dark to see the reef in a different light. Keep your eyes peeled for the more elusive creatures of the reef, they're sure to make an appearance!
---
From $2300, maximum capacity of 26
All aboard Spirit of Freedom's 37-metre yacht to the Ribbon Reefs. The Ribbon Reefs are home to the world-famous Cod Hole, which in turn is home to the largest population of giant potato cod. These big friendly giants can grow up to two metres in length and weigh up to 100 kilos! And they welcome divers with open arms (fins?). Immerse yourself in their neighbourhood and get up close and personal with these big spotty fellas.
Cash in on up to 11 dives over the course of your tour, plus a night dive. This tour is recommended more for confident divers as some of the dive sites require a little more experience than the average reef. Kick back in your roomy cabins in your downtime or hit the sun deck to soak up the rays, chat with your fellow divers, and take in the panoramic views of the endless blue sea. Enjoy chef-prepared meals of the highest quality and have a nip of some premium Australian wine as you wind down from your big aquatic adventure.
---
From $2600, maximum capacity of 26
Kick off the tour with a stunning scenic chopper flight over the reef to Lizard Island, where your aquatic adventure begins! Spirit of Freedom's four-day tour is basically an extension of their three-day tour, adding a few more pristine dive sites to the agenda, for your pleasure. Embark on up to 15 dives (including night diving) over breathtaking dropoffs, isolated pinnacles and unique coral gardens, and swim flipper to fin with vibrant tropical fish, giant potato cod, and even minke whales in the winter season!
---
From $3965, maximum capacity of 26
Spirit of Freedom's weeklong liveaboard adventure is a dream come true for those eager beavers that just can't get enough of the Great Barrier Reef. With seven days spent gallivanting and frolicking through countless sites from Cod Hole and North Horn to the Osprey and Ribbon Reefs, you'll score up to 24 dives! Since this is a pretty intensive scuba voyage it's ideal for PADI Advanced Divers. And if you're not quite there yet but ready to take your diving skills to the next level, the PADI Advanced and PADI Nitrox courses are available to complete onboard.
Not only will the diving knock your socks off but so will the food. Enjoy barbeque banquets under the sunset and lip-smacking chef-prepared meals. Make sure you're filling up your tank and getting your daily dose of nutrients after those long and rewarding days spent under the sea.
---