The 4 Best Overnight Tours in Cairns
The best way to experience the splendour of the Great Barrier Reef is on a liveaboard vessel, a boat that takes its guests straight to the heart of the reef for a snorkeling or scuba diving extravaganza. You simply can't come all the way to Cairns and not experience the reef for yourself, and even if you're only here for a short while, there are several overnight liveaboard options that suit short staycations perfectly. So, let's break them down …
---
From $320 with a maximum capacity of 16
Rum Runner offers overnight tours at the best value, starting from as little as $320 a night! Divers and snorkellers of all levels are more than welcome aboard, no matter how novice or expert you are there's something for everyone. Take it easy and simply snorkel, or embark on an introductory dive if you're feeling plucky — there's no pressure to overcommit up front. Or if you already know a thing or two about donning the oxygen tank and flippers, take your scuba skills to the next level and complete your PADI Advanced Open Water course. With a low maximum capacity of 16 guests, this is guaranteed to be an intimate reef sleeping experience.
---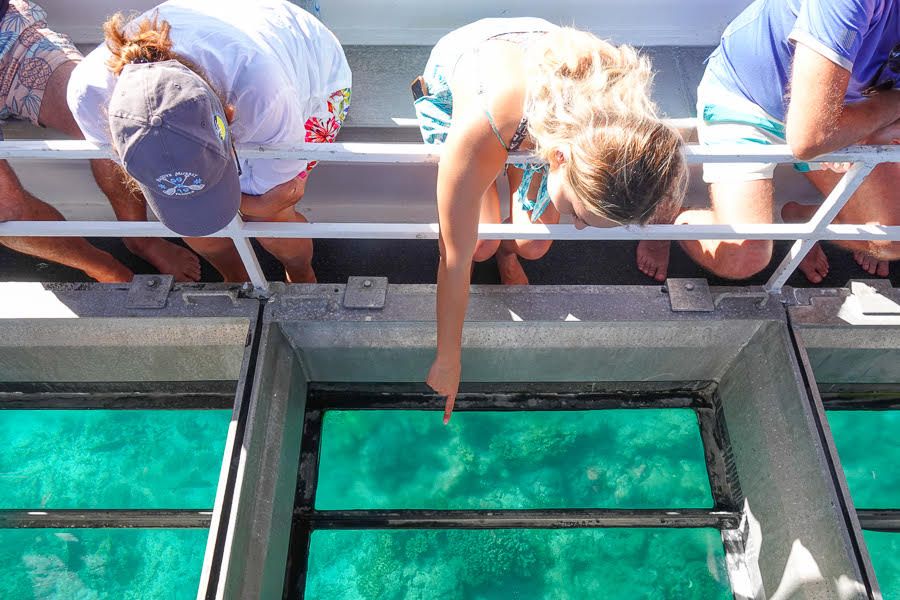 From $490 with a maximum capacity of 42
Step afoot this stunning, 32-metre luxury catamaran for 24 hours of pure bliss. Spend the hours soaking up the rays and working on your tan on the spacious sundeck and snorkelling and scuba diving through the secret treasures of the Great Barrier Reef. Enjoy up to five dives on the Outer Reef (Hastings Reef, Flynn Reef, Norman Reef, Breaking Patches) where countless creatures await, plus a night dive for qualified divers. And let's not forget about the inclusive glass-bottom boat tour! Take a little excursion through the reefs and get a different perspective on a boat with a transparent floor. Watch the hustle and bustle of the aquatic traffic glide to and fro beneath your feet as a knowledgeable marine expert take you through the ins and outs of just what makes the Great Barrier reef one of our favourite World Wonders.
If you're feeling a little fancy, Reef Encounter allows for luxury upgrades to their Top Deck Club. This includes your very own dedicated personal valet, a three-course dinner, and a private scuba and snorkel guide. Talk about living the lush life! And if by the time your 24 hours at sea are up but you're simply having too much of a good time to disembark, just extend your stay!
---
From $555 with a maximum capacity of 48
Dive into the Outer Reef for just $555 per night with Oceanquest. Embark on up to six scuba or snorkel adventures where you'll score close encounters with reef sharks, sting rays, and everybody's favourite stripey boys, clownfish. If you're ready to take your scuba skills to the next level or need a small refresher, indulge in a PADI course to fast-track your upgrade. And if you're feeling really frisky, go toe to tooth with sharks in the dark on a thrilling and unforgettable night dive. When the day is done, retreat to your spacious cabin with a private ensuite to catch up on z-time. Of course, don't forget to enjoy some well-deserved rest and relaxation at the boat's fully licensed bar … go on, you've earned it.
---
From $629 with a maximum capacity of 12
Allow Coral Sea Dreaming to whisk you away to a super intimate affair on the open waters. With a low low maximum capacity of 12, this overnighter is perfect for large groups and families traveling together. Watch the sun melt into the horizon and crack its sunset hues over the crystal clear waters of the Coral Sea as you prepare for a restful night of sleeping on the reef. Speaking of unforgettable nights, this is one of the only tours that allows introductory divers to partake in night dives! So treat yourself and take this once-in-a-lifetime opportunity to see the Great Barrier Reef come alive under the cover of darkness. Expect to see plenty of reef sharks, sea turtles, barracudas, and big friendly Maori wrasse as you traverse the reefs of the coral sea in extreme serenity.
---