Flynn Reef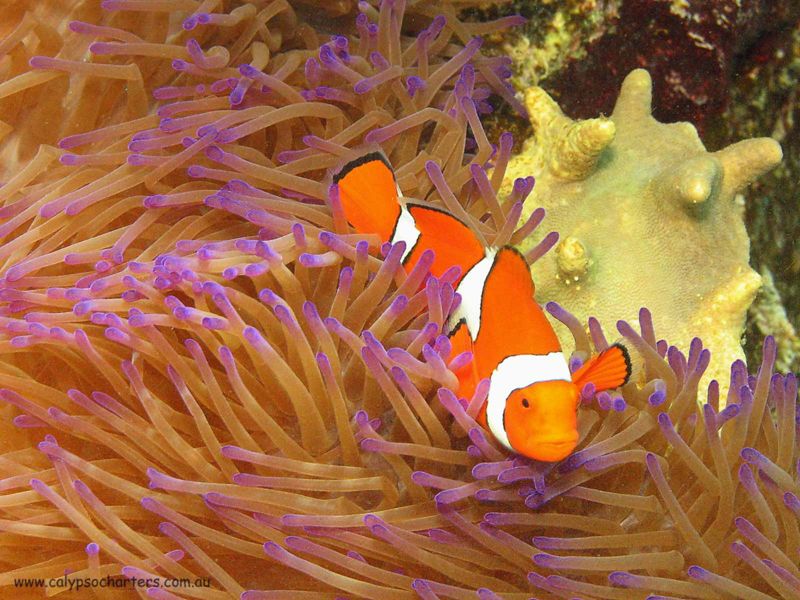 Flynn Reef is a coral reef found 20km east of Green Island in the Great Barrier Reef Marine Park. It is located on the Outer Reef and is about 60km offshore from Cairns. The ride out to the reef cruises past other colourful reefs, pushing you to the edge of the marine park and onto this much-loved and visited site! You can look forward to seeing plentiful marine life here as well as a vast seascape that boasts both variety and excitement!
This site hosts many smaller reefs including Coral Gardens, Ski Slope, Tracey's Bommie, Gordon's Mooring and Tennis Court, all of which are visited by day and overnight trips to the reef. It has mild currents but is overall manageable with depths ranging between 5 and 30 metres. Visibility is often good here and averages 15 - 20 metres.
You will find a diverse choice of reef types within Flynn; from canyons to swim throughs to reef walls and reef flats - it's seemingly endless landscape providers a new experience with each dive or snorkel.
It's a popular reef for novice divers and snorkellers alike due to the ease that is found in the water. The underwater scenery that awaits is amazing and is bound to make a lasting impression.
Things you might see on Flynn Reef:
Sea turtles
There are 6 species of sea turtles that live in the Great Barrier Reef, and if you're lucky, you might get the chance to spot some of them when you visit Flynn Reef. Turtles are often spotted munching on coral or lazily swimming around the reefs. If you do a night dive (for certified divers only) you may even get to spot them sleeping on the coral beds below!
Clownfish
Clownfish, also known as Ocellaris Clownfish, anemonefish or 'Nemo' are one of the funniest residents found on the reef! These small orange and white fish live in family groups inside the safety of host anemones, which acts as their shelter and protector in one. The stinging arms of the anemone keep the fish from harm and in return, they keep the anemone clean and tidy. You can spot Clownfish by looking for anemones, where families can be spotted flitting in and out of the safety of their home.
Triggerfish
Triggerfish are known as one of the most territorial fish on the reef! These small but mighty fish are extremely protective of their nests during mating season and have been known to attack divers or snorkellers who get to close and can sometimes bite or ram into those who get to close. They are beautiful to look at from afar and you can often see them from a distance, giving you plenty of time to be aware of its space. Luckily, their territory extends vertically, so as long as you give it a wide berth, you'll be fine.
Sea cucumbers
While sea cucumbers may not be the most interesting animal on the reef to see, it plays an important role in the overall health and function of the reef. They act as the vacuum cleaners, cleaning up the sea beds as they slowly make their way along the ocean floor. They can often be spotted in the sandy patches found around the reef and closely resemble a bloated cucumber!
Maori Wrasse
Maori Wrasse, also known as the Humphead Wrasse, are one of the larger species you'll see while diving or snorkelling at Flynn Reef. Maori Wrasse are known for their extremely friendly personalities and are known for getting up close and personal with visitors on the reef! The males are very easily recognised by their intricate colouring of green, yellow and blue as well as by their large size and the noticeable lump on their heads, while females are smaller and usually have brown, grey or red colouring.
Staghorn Coral
Staghorn coral is a species of branching coral that is often tan or pale brown in colour. It's easily recognised as it branches out off bommies and pinnacles, reaching out in an antler-like shape. Staghorn coral is delicate and is easily broken if bumps of faced with stormy waters. Luckily, it is extremely fast growing (10-20cm per year) so easily recuperates if damaged.
Boulder Coral
Boulder Coral are one of the most interesting corals on the reef! Colonies of this amazing species can live up to a thousand years, making it the oldest resident on the reef. They grow about a centimetre a year and is easily spotted due to their size and shape - amazingly, they look like a giant boulder made of coral!
Giant Clams
Giant clams are a huge mollusc that lives on Flynn Reef. They anchor themselves to one spot, where they will stay for life. They can live to be 100 years old and weigh 200kgs! Despite rumours, you cannot get eaten by a giant clam, but it's best to still keep all your fingers and toes clear of the opening, admiring their colours and size from above.
This is just a very small fraction of life you will see while visiting Flynn Reef. Tours select particular reefs based on conditions of the day, and marine life varies from place to place, providing a new and exciting experience each and every time.
Visit Flynn Reef for yourself and see all it has to offer! Ask our friendly travel experts about how to travel to this beautiful reef for the adventure of a lifetime.