Top Ten Best Instagram Spots in Cairns
Cairns is full of natural marvels and wonders that make for picture-perfect backdrops. If you're looking to upgrade your Instagram grid with turquoise waters, white sands and luscious green rainforest then Cairns, Australia, is the holiday destination for you! The city has a spectacular array of beautiful locations, ideal for taking Instagram-worthy photos. Some of the top spots include the Cairns Esplanade (which features a boardwalk and swimming lagoon), the Daintree Rainforest (home to a wonderful collection of tropical plants and flowers), and the Kuranda Scenic Railway (a train that offers stunning views of the surrounding rainforest and the ever-flowing Barron Falls).
Additionally, the Great Barrier Reef is a must-see for any Instagram enthusiast and lucky for you we have plenty of daily GBR boat tours on offer. Consider taking a hot air balloon ride over Cairns which would give you the ultimate instagram content, right?! These are just a few examples of the many stunning locations you can visit to capture the perfect Instagram shot.
---
Here are our top ten most instagrammable spots in Cairns and its surroundings.
1. Get an underwater image of the tropical fish on the Great Barrier Reef!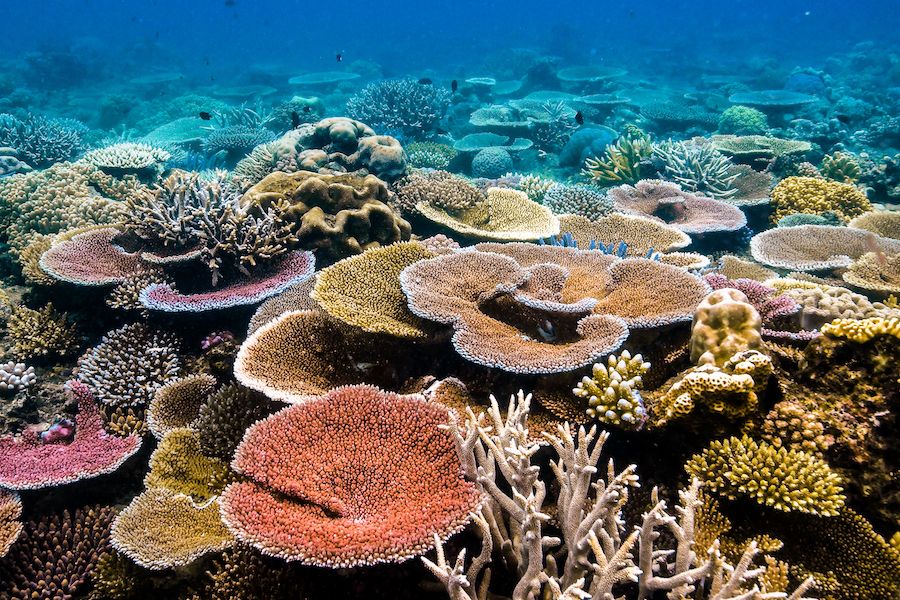 As it is one of the world's most famous natural wonders, the Great Barrier Reef is a must-visit destination for any Instagram photo seeker. Take a boat tour to capture the vibrant coral and marine life, or go for a snorkelling or scuba diving adventure for an up-close experience. If you've got a GoPro, grab it so you can capture unique shots of the diverse and vibrant marine life, colourful coral formations, and clear blue waters. This is your chance to see thousands of species of turtles, sharks, dolphins, clownfish, clams and other sea creatures. Plus you'll see a wide variety of coral, which provides a stunning backdrop for underwater photography. The Great Barrier Reef is also a UNESCO World Heritage Site and one of the seven Natural Wonders of the World, making it a popular destination for photographers and tourists alike.
---
2. Capture the essence of tropical living and snap a photo in Palm Cove under the Palms.
Visit the coastal town of Palm Cove and take your next picture between the palm tree-lined walkways with a backdrop of the blue ocean. Palm Cove is only a 20 minute drive north of Cairns and is a great place to take photos because of its tropical setting and beautiful beaches. We recommend you wake up early and watch the sunrise over the ocean. Be wowed by the orange and pink hues illuminating the Australian sky. Palm Cove also has a great eating scene, filled with restaurants, cafes and bars where you can also dabble in food photography. Definitely set aside the time to visit Palm Cove! You'll be pleasantly surprised by the laid-back atmosphere and the warm welcome from the friendly local. It's a great place to capture candid holiday photos.
---
3. Get an ad-worthy photo under the iconic Milla Milla Falls, famously used in a Herbal Essences shampoo commercial!
We'd vote Milla Milla Falls as the most picturesque waterfall in Far North Queensland! The falls are easily accessible and offer plenty of viewing points so you can capture the perfect shot! Best of all is that it's free and you can drive up to this location any time you like. We suggest arriving in the early morning to avoid tour groups and locals looking to take a dip. Pack your togs and drive to the Atherton Tablelands to experience the Waterfall Circuit. This location is not only a highlight in the tablelands, but it is also a particularly desirable location for media and film advertisements. Most famously, Milla Milla Falls is said to be featured in Peter Andre's 'Mysterious Girl' music video! You are guaranteed to leave with incredible photos of the lush rainforest and flowing waterfalls, enough to impress your family, friends, followers and fans!
---
4. Hop aboard the historic Kuranda Scenic Railway train!
All aboard the Kuranda Scenic Railway for panoramic views of the Kuranda rainforest! This train takes you from Cairns directly into the heart of Kuranda village, passing 15 tunnels and 37 bridges! For an upgrade to your train ride, purchase a Gold Class ticket which will provide you with personal onboard service and a fine selection of food and beverages. Kuranda is known for its rainforest, wildlife and cultural heritage. Visit the Kuranda Koala Gardens if you're looking to get up close and personal with some of Australia's wildlife and snap a photo holding a Koala! Kuranda offers a unique blend of natural beauty and cultural experiences, an ideal destination for those interested in ecotourism and outdoor activities. You must check out this enchanting rainforest village during your holiday in Cairns.
---
5. Live your rainforest dreams and snap a pic in the Daintree Rainforest.
Take a tour through the ancient rainforest and fill your IG story with hidden rainforest creatures, plants and landscapes. Be surrounded by dark greenery and vibrant blues that are seen in the plant and wildlife here, like the Ulysses native butterfly or the large Cassowary bird! This FNQ rainforest is a nature photographer's dream as it is home to exotic FNQ wildlife including frogs, birds, crocodiles and other critters of the rainforest! Capture birds-eye views of the reef, rainforest and beyond at the Alexander lookout. Or take a long romantic walk on Daintree's best beach, Cape Tribulation. Here you can meander under the canopies of the rainforest and take a stride on one of our bush walks! Have a day of adventure in rainforests that surround the Cairns region and make memories (and photos) to last a lifetime.
---
6. Challenge yourself to hike to the top of Windin Falls.
Upgrade your Instagram with a photo at the top of a cascading waterfall! Getting to this picturesque spot is a 90-minute hike each way, which will certainly make for a unique photo! To find Windin Falls, you have to embark on a beautiful, wow-factor hike. This hike takes you to the top of the waterfall, where you will find the infinity pools located just on the edge of the cliff! A swim is exactly the thing you need to cool off on this hike, so be well prepared with plenty of water and a good pair of walking shoes to keep you hydrated and comfortable on your adventure. Celebrate and share your hiking achievement with your friends, family or fans in this idyllic destination that overlooks the Atherton Tablelands.
---
7. Visit Paronella Park! The charming park is nestled within the rainforest making it look like a scene from the 'Jungle Book'.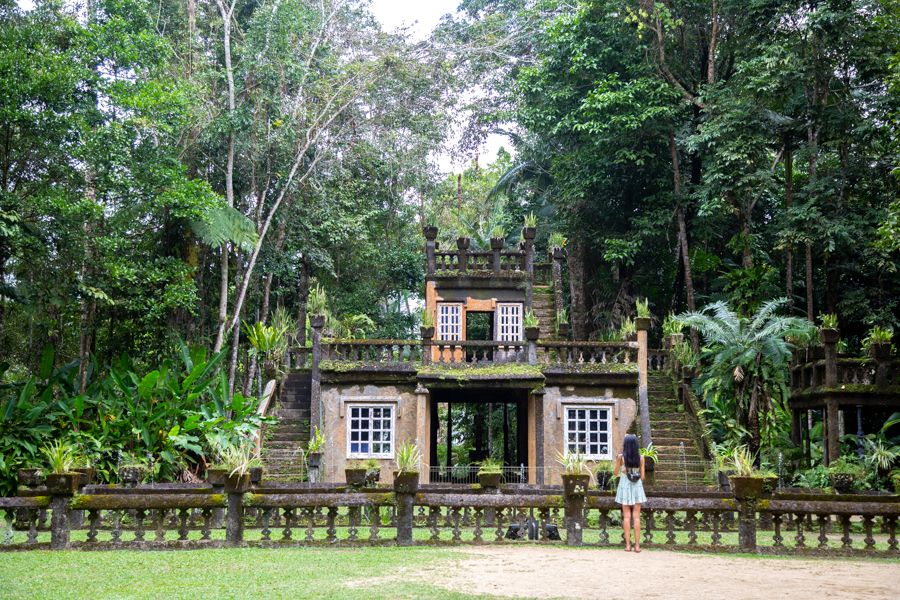 Most people are unaware that there is a 1920's Spanish Castle tucked into the rainforest on the Cassowary coast! Paronella Park is a 90-minute drive from Cairns and a fairytale dream for tourists looking to take magical rainforest photographs. Butterflies, flying foxes, turtles and Kauri pine trees are just a few species of wildlife you may encounter here! At the entrance of the park is Mena Creek Falls, a waterfall that is the source of hydroelectricity for the park. There is a wooden walking bridge that takes you over the waterfalls (a great photo opportunity). Paronella Park offers on-site cabins and camping grounds making it a wonderful location to take a selfie on your journeys along the East Coast of Australia.
---
8. Update your IG Reel at Josephine Falls and get a video sliding down the nature-made water slide!
Glide your way into the coolest creek on the waterfall circuit. If you're looking to update your reel, post a selfie with a cascading background or you simply want a swim, Josephine falls is your stop on your holiday in Cairns. A day trip to the waterfalls is perfect on a summer's day where you can hike, swim or picnic! Additionally, the falls are located in a tropical rainforest, which provides you with an opportunity to see a diverse array of plant and animal life. Josephine falls is accessible by car and is a short walk from the car park, which makes this spot great for the whole family. This waterfall location has great photographic opportunities varying from the movement of the water to the mist and spray it creates, which make photos here oh, so magical! Upgrade your feed with stunning backdrops of Far North Queensland waterfalls and take part in the Waterfall Circuit, located in the Atherton Tablelands.
---
9. For unique aerial views of Cairns, climb Walsh's Pyramid, a challenging hike, best suited for experienced hikers!
Escape the hustle and bustle of Cairns City and enjoy a long hike in the tranquil rainforests of North Queensland. Climb the highest free-standing pyramid in the world! Sights of its unique pyramid shape can be seen from Cairns City and will be calling for you to take on the challenge. This natural pyramid is located in Gordanvale and can take on average 5-6 hours to reach the top and get the best views of Cairns! Expect a steep hike with 360 views of the reef to the rainforest and beyond! Place Walsh's pyramid on your to-do list when visiting Cairns. This will leave you feeling accomplished plus you'll have an incredible collection of new photos ready for Instagram!
---
10. Cool off from the FNQ heat and snap a picture at the Cairns Lagoon, located on the Cairns Esplanade.
This picturesque waterfront area features a large lagoon-style swimming pool, playgrounds, and barbecue facilities, making it the perfect spot for a family picnic or a relaxing swim. Take a photo in front of Brian Robinson's iconic woven fish sculptures (a Cairns landmark). It's a perfect backdrop that will let your followers know where in Australia you are. The Cairns Lagoon is a great destination to take a break on your holidays. With plenty of picnic tables, BBQ's and shaded areas this day out is suitable for all ages. It is located in the centre of Cairns so head on down!
---
There's so much to see and do in Tropical North QLD. Tick the Great Barrier Reef off your bucket-list today!
Get in touch with our local travel agents to book an unforgettable reef experience!