Best Liveaboard Great Barrier Reef Tours
The best liveaboard Great Barrier Reef tours allow you to become one with the underwater world as you spend multiple days living out on the reef! Many travelers in Cairns choose to do reef day trips, which are always incredible. But if you really want to immerse yourself in the world's largest coral reef system, consider spending a few days frolicking amongst the marine life on a liveaboard tour from Cairns!
---
Why Choose A Liveaboard Great Barrier Reef Tour?

Liveaboard Great Barrier Reef tours allow you to spend all day and night out on the reef for a few days at a time. You'll get to sleep in a cozy accommodation aboard a dive boat or pontoon and watch the sunrise over the turquoise waters of the Great Barrier Reef. Whether you're a snorkeler, an introductory diver, or a certified diver, liveaboards give you more time to get underwater!
Every liveaboard is slightly different, but many offer 10 or more dives at different unique reef sites. Some include night dives, and all include high-quality gear and certified local instructors and guides. Liveaboards are ideal for those looking to improve their dive skills, as you'll have lots of time to practice and learn out on the boat. You'll have an in-depth experience with the Great Barrier Reef and become a more competent diver!
---
The Best Liveaboard Great Barrier Reef Tours

Once you've decided to spend a few days on the reef, you may be wondering which liveaboard to choose. There are lots of reputable local companies in Cairns that offer top-rated liveaboard experiences, ranging from 3 to 7 nights. Here is a quick overview of the best liveaboard Great Barrier Reef Tours from Cairns!
---
3 Day Liveaboards
During your 3 days and 3 nights on the reef, you'll get to visit 11 different sites on 4 different reef systems. Certified divers can try 2 night dives, though this tour is suitable for introductory divers and snorkelers as well.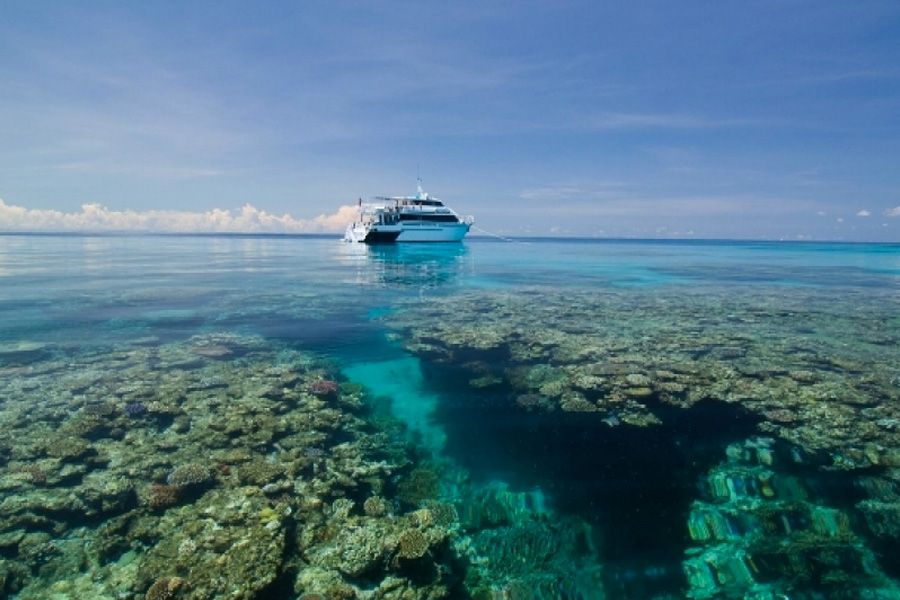 Similar to the other pro dive tour, this 3-day liveaboard visits Agincourt and Ribbon Reefs and includes up to 10 dives. But this tour is special because there is a chance you'll see Minke Whales! Your guides will go to all the most popular spots for migrating Minke Whales to give you the best opportunity to spot one of these magnificent creatures during your dive!
This 3 day, 2 night reef tour visits up to 10 different reef sites and is suitable for snorkelers and divers of all skill levels. New divers can complete PADI courses on board and gain their certifications!
This liveaboard is geared towards advanced divers. Snorkelers are welcome to join, but some reef locations may not be suitable for snorkeling. You'll get to do up to 11 dives and visit the famous Cod Hole, a reef site home to a giant family of potato cod.
Another one of the best 3 day liveaboard Great Barrier Reef tours from Cairns is Mike Ball. Start with a low-level flight over the reef so you can enjoy some aerial views before diving into the water. During your 11 dives, you'll also get to visit Cod Hole and other spectacular sites along the Ribbon Reefs.
If the thought of diving with sharks excites you, this is the liveaboard you should choose! This small group tour takes only 16 people and includes up to 10 dives. You'll visit the remote Holmes Reef and have the chance to swim with sharks and even feed them during your dive!
---
4+ Day Liveaboards
With both a 4-day and a 5-day liveaboard option, Reef Encounter offers snorkelers and scuba divers options to deeply explore magical reef sites including Norman Reef and Hastings Reef. Night dives and glass bottom boat tours are also available!
Mike Ball also offers a 4 day, 4 night liveaboard, but this one is for advanced divers only. You'll visit exclusive reef sites and have the chance to do 14 dives amongst a diverse range of fascinating marine life such as turtles, sharks, and tropical fish. A scenic flight from Lizard Island is also included so you view the natural beauty from above!
Spirit of Freedom offers both a 4 day and a 7 day liveaboard! The 4 day, 4 night tour offers a stunning exploration of the Coral Sea. Visiting sites such as Cod Hole, Osprey Reef, and other highlights of the Ribbon Reefs, you'll have the time of your life doing up to 15 dives in the Great Barrier Reef. The 7 day liveaboard is one of the most immersive reef experiences and gives you time to do up to 24 dives!
---
Live chat with our local travel experts or call us at (07) 4082 7470 if you have any questions!