The Best Boats for Couples
Updated Tue 24 Jan 2023
Loved up and looking for an escape from the maddening crowd? Whether you're honeymooning, holidaying with a top-secret ulterior motive to propose, celebrating an anniversary, or you're simply wanting to show your special someone just how special they are, Cairns has a fleet of ships just waiting to sweep you off your feet. From sunset cruises to snorkelling trips and liveaboards, there's a boat for every couple and every occasion. So, set a course for adventure and climb aboard a love boat!
---
Sunset Cruises
Sunset cruises are one of the hottest destinations for date night in Cairns, and one of the most romantic and theatrical places to proclaim your love or pop the big question. We can't think of a better place to wine and dine your honey than with the backdrop of a setting sun casting its glow over the glittering waters of the ocean.
---
The basics: $105 pp, departs daily from Marlin Marina, Cairns. 2.5 hours.
Sail into the sunset with your boo on Spirit of Cairns stunning afternoon dinner cruise — drink on arrival included! Board the 26 metre luxury catamaran for a two and a half hours of romantic splendour, retreat to the dimly lit and fully airconditioned interior or feel the fresh ocean breeze in your hair on the deck's waterside dining. Enjoy canapés of antipasto, cured meats, cheeses, fresh local prawns and aphrodisiac oysters on arrival. For mains, gorge on a selection of salads, mushroom bourguignon, herb-crusted barramundi, calamari, moroccan chicken, or a delish veggie pasta bake. And of course there's a selection of light and fresh desserts to conclude the evening with your sweetie — Aussie classic pavlova, cakes, fruits and more cheese (you can never have enough). There's also an option for a set menu if you'd rather spend the evening hopelessly devoted to your special someone.
---
The basics: $75 pp, departs daily from Wharf Street, Port Douglas. 1.5 hours. Adults only.
Watch the glorious Cairns sunset twinkle in your lovers eye as you feast on the chef's best dishes aboard the Sailaway Sunset Cruise. Get appetized on arrival with corn and zucchini tartlets, pea and mint arancini, sushi, and a selection of cheeses and antipasto as you acclimatise to the gentle rock of the boat. The dinner menu is subject to change, so we hope you like surprises! Let the chefs do the work as you gorge on delicious mains and sensational views of the Daintree Mountains in the west and the glittering Coral Sea in the east.
---
Day Trips
Embark on a Great Barrier Reef journey with the love of your life. This is an unmissable experience for honeymooners and anniversary celebrations — one simply cannot come to Cairns and not explore the underwater wonderland of the reef! So come make a splash and some very special, unforgettable memories.
---
The basics: From $175 pp, departs daily from Cairns. All ages.
With a limited capacity of 20 people, you're sure to make some magic memories with your honey as you spend the day sailing to Upolu Reef and exploring its underwater treasures. As you dive into the deep blue hand in hand with the love of your life, discover giant clams big enough to fit whole humans inside of them, vibrant clownfish and sea stars, anemones and sea turtles. Come up for air to enjoy an inclusive lunch, afternoon tea and a refreshing glass of wine. The Reef Daytripper also has the lowest carbon footprint of any Cairns operator — an added bonus for your other lover, Mother Earth.
---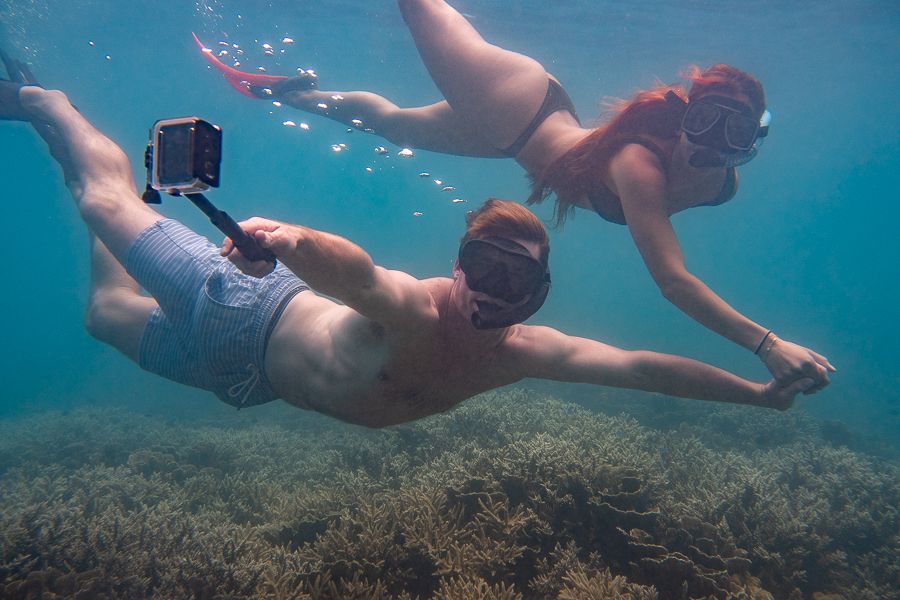 The basics: From $399 pp, departs on request from Reef Fleet Terminal, Cairns.
This is a next level experience for those really wanting to woo their special someone. It's all in the title: Gold Class. Expected to be waited on hand and foot by the amazing and attentive crew as you cruise to two stunning reef sites on a 35-metre superyacht. Enjoy a sensational BBQ lunch, local prawns and fish, and steak in the luxury private lounge as the serene seascapes pass you by. When it's time to make a splash, submerge into the splendour of Saxon and Norman Reefs, teeming with technicolour wonders. Both incredible dive sites with perks for snorkellers and suba divers: glide over forests of rainbow staghorn corals and bommies before soaring off the edge of dramatic drop-offs. Swim alongside eclectic blue and neon orange nudibranchs, majestic hawksbill turtles, and gigantic, big-lipped Maori wrasse.
The Evolution Reef Cruise includes a semi-submerisive reef tour where you'll descend into the reef in a glass case without getting wet, all while getting the lowdown on all of the creatures and corals that call the Great Barrier Reef home. You can even elevate your date to the max with an added chopper ride and see the reef from above!
---
Liveaboards
If one day on the reef with your lover simply isn't enough, climb aboard a 4-day, 4-night snorkelling getaway for a next level Great Barrier Reef experience! Magical things happen at sea, so why not ditch the mainland and get the love boat a'rockin — if you know what we mean.
---
The basics: From $3040 pp, departs Sundays.
Kickoff this luxurious getaway with a scenic flight over the Coral Sea to Lizard Island, where your water chariot awaits. Board the Spirit of Freedom for four days of bliss and embark on up to five dives a day — thats up to twenty-five dives total! Your diving destinations include several sites in the pristine Ribbon Reefs, home to the world famous Cod Hole, as well as Osprey Reef, Steve's Bommie, Temple of Doom, Flare Point and Bougainville Reef. Spirit of Freedom is recommended for advanced divers, but also welcomes experienced snorkelers — so no stress if you don't have your diving cert! On top of all of the day dives, you'll also have the rare opportunity to explore the reef by night. See the reef transform into a vastly different world as the sun sinks below the horizon and the more elusive sea creatures like moray eels, crayfish, decorator crabs and egg cowry shells come out to play.
---
The basics: Departs Thursdays.
Your home for the next four days will be the Spoilsport, and make no mistake — you will be spoiled rotten! This one's for diving enthusiasts, so don your stingersuit and flippers and plunge into an underwater world of unparalleled delights. Spend day one swimming with the big friendly potato cod at Cod Hole and — if you're diving in winter and get lucky — even catch a glimpse of dwarf minke whales in winter, and return to the water at night for your first night dive of the week! Over the next three days, discover thrilling reefscapes of caves, overhangs and dense, vertical coral gardens. Keep your lover close as you swim flipper to fin with whitetips, slivertips, hammerheads and grey whalers at Osprey Reef. Over the course of the week you'll be wined and dined on champagne and delicious meals prepared by a private chef — ooh la!
---
Start planning your romantic getaway to the Great Barrier Reef today. For more advice on the best boats for you and your boo, hit up our amazing 24-hour travel experts!