Whale Watching From Cairns
Updated Mon 14 Aug 2023
The winter months in Australia means whales migrate along the East Coast, making it the perfect time for whale watching! From the south of Australia all the way up to Cairns, various whale species are moving along the coastline in their annual migration. So if you're visiting Cairns in winter, you have the chance to spot some whales for yourself while exploring the Great Barrier Reef! Here is everything you might want to know about whale watching from Cairns.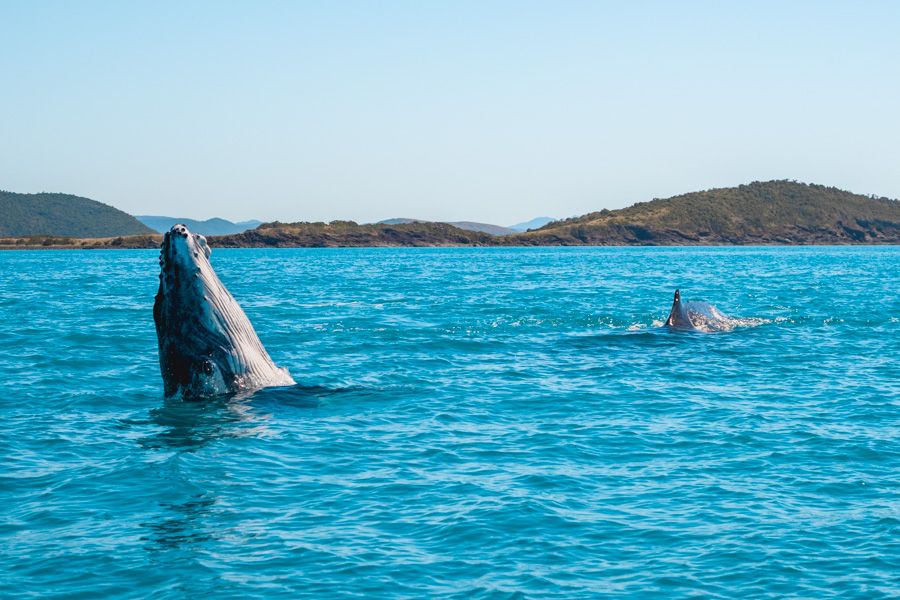 ---
Whale Watching From Cairns
The winter months are ideal for whale watching from Cairns. Humpback and minke whales migrate along the coast of Australia each year to escape the cold Antarctic waters, opting to venture to warmer waters in the north. They can be seen at many different places along the coast as they make their way up, with tours from Tasmania to Cairns and everywhere in between! As they make their way along the east coast they are often spotted breaching, tail slapping, fin slapping, or making their way along with babies in tow.
Humpback whales are often seen off the shores of Cairns in July, August, and September while minke whales are around a bit longer, appearing as early as May. About 2,000 whales complete the annual migration to Cairns and back, giving you plenty of chances to enjoy their company!
---
Why Do Whales Migrate North?
Whales migrate to the tropics of Australia because the warm climate is perfect for raising young. Their migration north is driven by the need to mate and have their babies in calm, tropical, sheltered waters, giving them their best start at life. Other notable destinations for these favourable conditions include the Whitsundays, K'gari (Fraser Island), and Hervey Bay. From here they will nurse them and teach them before migrating back down south, where they will feed on krill and small fish for the rest of the year.
Cairns, like several other places in Australia, provides the perfect place from which to see these majestic animals in their natural environment. Tours depart from the mainland and make their way to the Great Barrier Reef where you can see whales enjoying the warm waters and shelter provided by the reefs.
Oftentimes, other tours will encounter these animals during their day-to-day activities, just as they make their way around! But if you join a specified tour, you're more likely to see them up close, as they are directed at whale watching in particular. There are even a few tours that allow you to swim with minke whales, which is a rare privilege.
---
More Fun Facts About Whales In Australia
All whales and dolphins in the Great Barrier Reef Marine Park are protected. In fact, whales cannot be hunted within 322 kilometres of Australia at all, by anyone. For this reason, the humpback whale population is on the rise, whereas not so long ago this species was endangered. After being hunted to near extinction, there are now up to 25,000 humpback whales that frequent Australian waters. Only a select few make it all the way to Cairns each year, making it an even more special place to enjoy their company.
Facts about humpback whales
Each and every whale has a unique pattern on its tail flukes and underside, which is used to identify them by photographers and scientists
They have two blowholes instead of one
They feed on krill and small fish and don't eat once they exit the cold Antarctic waters
Females are larger than males and can weigh up to 40 tonnes.
Baby humpback whales can gain up to 45kg off of their mother's milk!
They are known for singing and their songs can be heard for many, many kilometres underwater
They are known for completely launching their bodies out of the water during what is called 'breaching'
Scientists are unsure why whales breach or slap their fins, which are both common in humpbacks
Facts about minke whales
Minke whales are found all over the world
There are two species: the North Atlantic minke whale and the Antarctic or southern minke whale
Their only natural predator is the killer whale, which is known to hunt solitary minkes for several hours
They can live to be as old as 60 years but on average live 40
They can swim up to 40 kilometres per hour at top speed, but generally, swim at no more than 25 kilometres an hour
They can hold their breath for up to 25 minutes when they dive for food
They can weigh up to 10 tonnes and eat small fish and krill
Join a whale-watching tour from Cairns or take the chance to swim with minke whales on a specialised tour! There is nothing as beautiful as seeing these giant, majestic animals among the blue, clear waters of the Great Barrier Reef, enjoying life under the sun in the company of other iconic reef residents.
---
Increase your chances of seeing a whale at sea by spending a few nights on a Great Barrier Reef liveaboard!
Live chat with our travel experts online if you have any questions about planning your adventures in Cairns!