Upolu Cay and Reef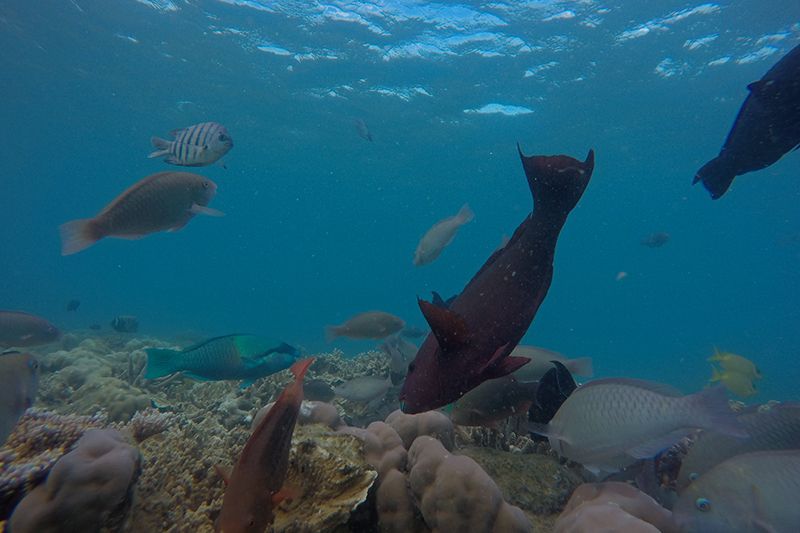 Upolu Reef offers an inner reef experience on the Great Barrier Reef and a spectacular place to explore and visit, teeming full of marine life! Unlike some reefs in the marine park, it supports both inner and outer reef species, giving you a diversified insight into life here on the Great Barrier Reef. Upolu Cay is located within Upolu Reef, so you can visit both in one trip - if the cay is above water! As Upolu Cay is very tiny and has very little elevation, it can actually become completely submerged during high tides!
The surrounding reefs are shallow and offer amazing quality, giving snorkellers and divers a great view into the underwater world. The cay itself offers no protection, amenities or shade, but does provide a great place to discover the fringing reefs from! Plus, it's only located 30km away from Cairns, so makes for a popular place to visit for the day!
Things you might see on Upolu Reef:
Sea turtles
Sea turtles are found all over the Great Barrier Reef and are often spotted at Upolu Reef. There are 6 species of sea turtles found in the marine park, any of which can be spotted at Upolu. However, during your snorkelling or diving adventure, you are most likely to see green sea turtles, which frequent coral reefs. Keep your eyes open and pay attention - they are sometimes hard to spot as they blend in perfectly with their surroundings! Always give them plenty of space; just like humans, they need air to breathe, making their way to the surface every 4 minutes or so.
Nudibranches
Nudibranches are small jelly-bodied molluscs that are a colourful and welcome site on the Great Barrier Reef! Shedding their shells in their larval stage, nudibranchs are related to sea slugs and have wildly colourful bodies and unique shapes! With over 2,000 species currently identified, they come in a huge variety, each seemingly more unique than the last. They can be small, big, ticket, flat, long, short, colourful or drab!
Scorpion Fish
While scorpionfish are a rare animal to encounter, scuba divers who venture to the Outer Edge of Upolu Reef might get to see this elusive creature. They are also called stonefish or rockfish and are extremely well camouflaged, blending in with their surroundings. They are one of the most venomous animals in the sea and their sting is extremely painful to humans - but divers and snorkellers need not worry as most of the time, the only sting humans if stepped on accidentally in shallow reefs! They spend their daylight hours resting in holes or crevices, waiting for night to come where they will hunt for their prey! It's fun to keep an eye out for these animals as sometimes you can't even see them when you're looking right at them!
Blue-spotted lagoon rays
Blue-spotted rays are a smaller stingray that is often spotted on the seafloor in Upolu Reef. They range in colour from olive-green to beige but are most noticeable by the bright blue spots on their backs and blue stripes that run down their tail. While their barbed tail is capable of hurting humans, they are more likely to flee than attack when they feel threatened. You can see them by keeping an eye on the sandy ocean floor where they may be hanging out in search of food. Sometimes, they are buried and all you can see is their tail sticking out of the sand!
Visit Upolu Reef for yourself and visits its cay and surrounding reefs for an amazing Great Barrier Reef experience. Ask our friendly travel experts which tour is right for you and being the adventure of a lifetime!