Where To Rent A Car In Cairns?
If you are looking to explore Cairns and its scenic surroundings, choosing to rent a car can be the most personal way to experience the tropics. So, you're probably wondering "Where can I rent a car in Cairns?" We have put together a list to help you find the best car hire in Cairns. Whether you're on the hunt for the cheapest car hire in Cairns or more specifically a seven-seater car hire for the whole family, Cairns has a wide range of rental cars on offer, and we have listed them all.
---
Where to hire a car near Cairns Airport?
So, you've just landed in Cairns and are looking to pick up a car and head to the nearest beach, creek or swimming hole. You won't miss a moment if you hire a car from the airport; an experience starting the very moment you land up until your departing flight. We have listed the car companies that offer rental services at Cairns Airport.
Cairns Mini Car Rentals - Large selection of vehicles, hatchbacks, SUVs, 8 seater vans, convertibles.
Avis - City car rentals, offering a 4WD automatic Prado and a luxury BMW S3.
Budget - City car rentals, SUV, 7 and 8-seater cars available for hire.
Comet - City car rentals, hatchbacks, sedan, Jeep, SUVs, 8 seater vans, convertible Mustang.
Europcar - All automatic transmission, 5 seater city cars, 4WD Ute, 8 seater Kia Carnival.
Hertz - Large selection of vehicles 5 - 8 seater, van and ute hire available.
Thrifty - Large selection of vehicles 5 - 8 seater, van, ute hire and truck available.
Dollar - City car rentals and SUVs.
Redspot - Large selection of vehicles 5 - 8 seater, including Audi, landrover and BMW.
Enterprise - Standard, compact, SUV and 8-seater vans.
National Car - Standard, compact, SUV and 8-seater vans.
Alamo - Standard, compact, SUV and 8-seater vans
Sixt - Large selection of vehicles, city cars 5 - 8 seater, 4WD Ute's and 12-seater Toyota.
---
The cheapest car rentals in Cairns
Pricing for renting a car is always changing. Small cars are usually the cheapest, and the current cheapest car rentals in Cairns are Cairns Mini, Jucy, Rentabomb and Bargain. We have listed the cheapest car hire companies as of September 2022.
At the top of the list is Cairns Mini, but they don't just have small cars. With a range from hatchbacks, to 8 seater mini vans, to convertible Mustangs and Mazda's, there's a wide selection of vehicles at super friendly rates for all budgets. They even offer free pick up from airport and city accommodation.
Phone: 07 4082 7470
Address: 134 Sheridan Street, Cairns City, 4870
Another of the best budget car rentals in Cairns is JUCY car hire. They even include a free shuttle bus from Cairns Airport to JUCY Car Rentals, so your transportation is sorted from the moment you arrive in Cairns.
Phone: 1800 150 850
Address: 55 Dutton Street, Portsmith, QLD 4870
Second on our list of cheapest budget car hire is rent-a-bomb, offering a range of quality vehicles at affordable prices and an easy booking process.
Phone: 07 4031 4477
Address: 144 Sheridan Street, Cairns QLD, 4870
Bargain Car Rentals direct from Cairns airport will have the perfect vehicle for you and is available for pick up directly from Cairns Airport. There are options for smaller sedans that are perfect for a scenic drive from Cairns to Port Douglas. As well as other cheap car hire options from their modern and well-maintained fleet.
Phone: 1300 729 230
Address: 410 Sheridan Street, Cairns North, 4870
We chose to include Apex car rentals as they offer spectacular deals! Whether you're travelling to Australia for the ultimate driving holiday, or are a local needing a rental car for business or leisure, Apex has the right rental car for you at the best price.
Phone: (07) 4053 2896
Address: Cairns Airport, 396 Sheridan Street, Cairns North 4870
---
The best car hire in Cairns for camping

Choosing a campervan is an important task when you are looking to explore Australia. We've selected the best car hire in Cairns for camping, to help you choose your home on wheels.
When in Cairns you are bound to see a Spaceship on the road. And no, we don't mean the outer space kind! Spaceship Car rentals are silver Toyota Estimas converted into campervans, that kind of look like a spaceship. Explore Australia in a spaceship, with options to sleep 2-4 people.
JUCY offers five campervan models in Australia and three in New Zealand. They all come with fully equipped kitchens, including a fridge, sink, and gas cooker. It comes with all bedding, plus unlimited kilometres and 24/7 roadside assistance.
Wicked Campers offer iconic, premium and mini campers on site, including both AWD and 4WD vehicles. For a great start to your holiday book a Wicked campervan! Here you will find quality, safety, cheap, and perfect campervan offers. Take advantage of the special rates they offer as well as special offers at Wicked Campers.
---
Where can I hire a 7-seater car in Cairns?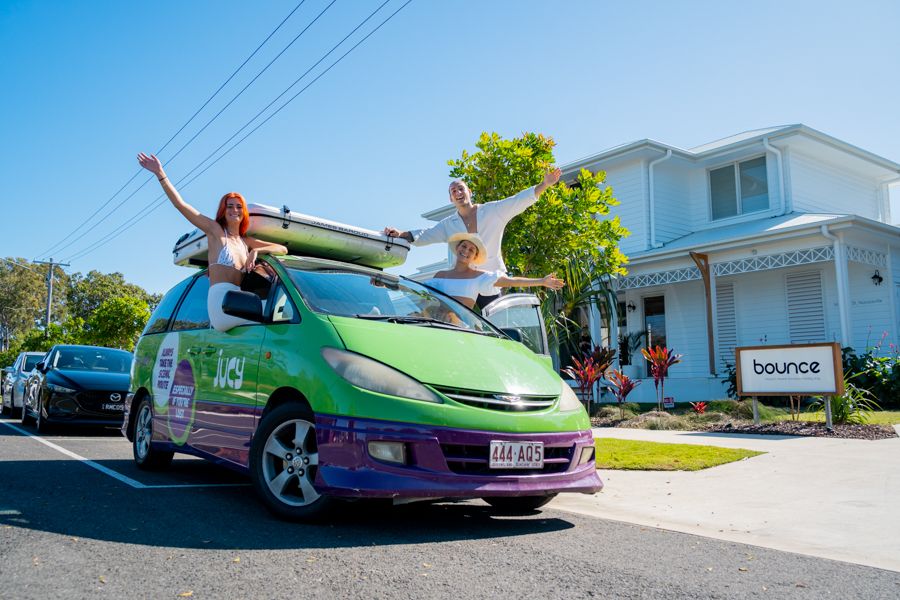 In need of a 7-seater car for your family road trip? Planning a big weekend with your group of friends? Or, are you just after that little bit more space? 7-seater cars are available for hire in Cairns with, Mini, Budget, Hertz, Thrifty, Redspot, Enterprise, National Car, Alamo, Sixt, JUCY, and Spaceship.
---
Our team of Cairns locals are here to personalise your time in tropical paradise... exploring Cairns has never been so simple, affordable and seamless.
Call us on +61 (07) 4082 7470, live chat with a travel agent instantly or come into our Cairns Shop with any questions and to book your next adventure!