1 Day Active Tropics Cape Tribulation
CLOSE
View More Thumbnails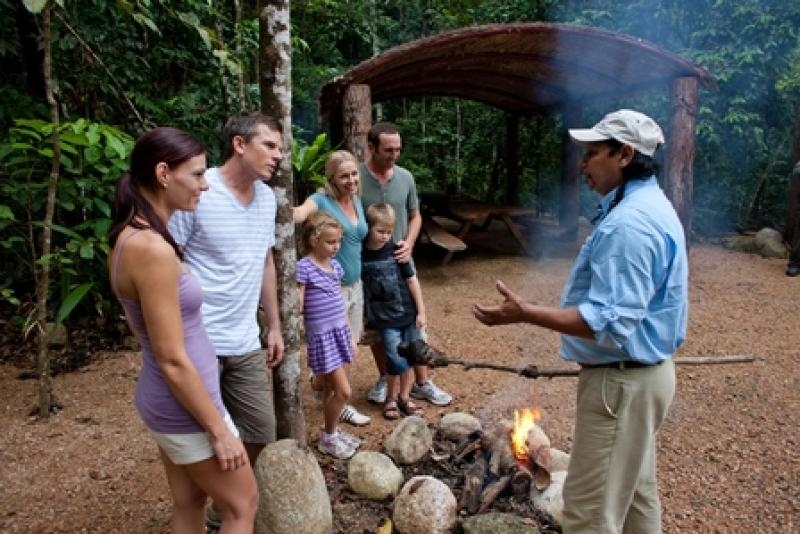 Loading...
Departure Times
Departs: 7:30am - Daily
Returns: 7:00pm - Daily
Pricing Options
$185 AUD / Person
- Child (2-11 years)
(Between: 01 Apr 2023 and 31 Mar 2024)
$205 AUD / Person
- Adult
(Between: 01 Apr 2023 and 31 Mar 2024)
RRP $195

$180 AUD / Person
- Family (2A +2C) ($720 Total)
(Between: 01 Apr 2023 and 31 Mar 2024)
Spend the day visiting the oldest living rainforest in the world!
Check out the highlights of the Daintree Rainforest and Cape Tribulation
Meet with locals, swim in the gorge, check out the local wildlife, walk among the rainforest and more!
Participate in a traditional 'welcome to country' and smoking ceremony
1 Day Active Tropics Cape Tribulation will show you all of the highlights that the Daintree and Cape Tribulation have to offer! This one day tour will take you to all the best parts of the area, even giving you the chance to meet with one of the Traditional Indigenous Owners of Mossman Gorge and learn about their interpretation of the rainforest and take part in a welcoming ceremony. This is a unique day tour for those who want to explore and learn more about this beautiful part of Australia.
---
Features
Participate in a traditional 'welcome to country' and smoking ceremony
Swim in the Mossman Gorge
Join a Wildlife River Cruise where you can spot wildlife!
Guided walk at the Marrdja boardwalk
Have lunch in the heart of Cape Tribulation and enjoy a walk on the beach
Photo opportunity at Alexandra Range Lookout
Try the locally grown organic black tea
Package and save with Waterfall Wanderers & Cape Tribulation 2 Day Adventure!
---
Sample Itinerary
Scenic Drive
Enjoy a scenic drive along the picturesque coastline, taking in the views as you go! This famous drive winds through the rainforest and hugs the coastline, giving you views of the ocean and forest as you go.
Mossman Gorge
Our first stop is at Mossman Gorge, also known as Wurrumbu, where you will be met by the traditional owners of the land you about to explore. Here you will participate in a traditional welcome to country and smoking ceremony with a kuku yalanji tribal member. Afterwards, you will stop for a quick breakfast (at own cost) before heading to Mossman Gorge for a refreshing swim! The cascading water and majestic pools make Mossman Gorge an iconic place to visit and a great place for relaxing and taking memorable photos.
Marrdja Boardwalk
After you enjoy a morning swim, you will head North on the other side of the river where the road narrows as we pass through some of the world's oldest living rainforest. Our highly trained guides will give expert rainforest interpretation during a 45 minute guided walk at the Marrdja boardwalk. Be amazed at the huge diversity you will encounter, everything from low lying ferns and shrubs, to the massive rainforest canopy and even mangrove ecosystems all in one short easy walk. On our return trip, we have an (optional stop - time permitting) at the Floravilla biodynamic Ice Cream Company featuring a minimum of 26 exotic fruits and traditional flavours.
Alexandra Range Lookout
Stop at this beautiful lookout point for views of the reef and rainforest! This is a great spot to grab some iconic photos and selfies before heading out to your next stop.
Wildlife River Cruise
Board the Wildlife River Cruise where you will get to see some of Australia's most dangerous wildlife up close - the infamous saltwater crocodile! Cruise through their domain and learn more about the fragile ecosystem of the Daintree River.
Your action-packed day is full of beautiful sites, stunning lookout points and plenty of fun!
---
Departs/ Returns
Departs: Approx 7:25am from Cairns, 8.55am from Port Douglas (includes pick-up from accommodation)
Return: Approx 5:30pm to Port Douglas and 7:30pm to Cairns
More Information
Show Less
What To Bring
Swimwear
Change of clothes
Towel
Cash (no cards available on the trip)
Waterbottle
Comfy footwear (Thongs are accebtable)
Something warm for the bus ride
Small day bag (Large bags cannot be taken on the bus)
What's Included
Indigenous welcome to country and smoke ceremony
Free time at Mossman Gorge
Wildlife cruise
Lunch at Cape Trib Beach House
Free time at Cape Tribulation Beach
Guided rainforest walk
Optional icecrea...
Read More
What To Bring
Swimwear
Change of clothes
Towel
Cash (no cards available on the trip)
Waterbottle
Comfy footwear (Thongs are accebtable)
Something warm for the bus ride
Small day bag (Large bags cannot be taken on the bus)
What's Included
Indigenous welcome to country and smoke ceremony
Free time at Mossman Gorge
Wildlife cruise
Lunch at Cape Trib Beach House
Free time at Cape Tribulation Beach
Guided rainforest walk
Optional icecream stop (At own cost)
Alexandria Lookout
Daintree river ferry crossing
Port Douglas
Lunch
What's Extra
If pick up is in Port Douglas, then drop off is in Port Douglas. If pick up is in Cairns, then drop off will be in Cairns. No luggage can be taken on the day tour, except a day bag.
Terms and Conditions
All departures and itineraries are subject to weather. Tours may be changed or cancelled for any reason at the discretion of the Tour Operator. It should be noted that adventure travel involves risk. Whilst we make every effort to safeguard clients, we cannot be responsible for personal injury or loss due to the actions of our clients which are beyond our control. We recommend that all clients have travel insurance covering illness, injury, loss or damage to personal belongings and not being able to travel on the confirmed date of departure. Please be aware operators pass on credit card merchant fees so there is a non-refundable 1% surcharge for VISA and MASTERCARD purchases.
Open Date Vouchers / Gift Certificate:
Shipping Costs are in addition to the ticket price and will be added at check-out. Shipping costs are non-refundable and do not makeup part of the ticket value.
E-Vouchers incur no shipping fees.

You have 5 years to use the value of the voucher. Seasonal Price Rises will apply if travelling out the current seasons pricing. Vouchers can be exchanged for free up to the full value of the voucher excluding credit card fees and charges.
Cancellations
Client Cancellations:
All cancellations forfeit 25% of the recommended retail price (RRP) - not the discounted/sale price. Cancellations made 60-30 days prior to travel date forfeit 50% of the RRP. No shows or client cancellations made within 30 days of departure forfeit 100% of the total ticket price.
Transfers between tours can be made at the suppliers' discretion, however, it should be noted that supplier fees may apply. Tour transfers also incur a $20 administration fee.
It is compulsory that all cancellation requests are in writing and sent via email to admin@mr-travel.com. Cancellations attempted via online chat or phone will not be actioned.
Supplier Cancellations:
The Service Operator reserves the right to alter prices, alter itineraries, apply a fuel surcharge, cancel departures, arrange alternative transport and vary itineraries and services if necessary.
All departures and itineraries are subject to weather. Tours may be changed or cancelled for any reason at the discretion of the Service Operator. If the Service Operator has to cancel the trip or activity (prior to departure) and we cannot offer a suitable alternative, then a refund will be given minus a 20% administration fee and any associated card fees. We strongly recommend that you have travel insurance, especially during the wet season.
In the unlikely event of your trip being cancelled or stood down, all guest communication is required to go through our Online Store via telephone or email. While there is a Sailing Whitsundays/Mr Travel retail outlet located Airlie Beach, please be aware that they operate as a separate entity and are unable to access reservations made by the Mr Travel online department.
Refunds:
All refunds are in Australian Dollars and must be made to the card of payment. Cairns Tours/Mr Travel is not liable for exchange rate fluctuations or fees, or any other merchant/bank fees associated with domestic and/or international transactions.
Where a full refund is applicable, there is the option to transfer the whole cost of the tour to another tour or "Credit" to avoid the administration fee. A transfer fee of $20 will apply.
You will be emailed confirmation once the refund has been processed. Once the refund has been processed, it may still take time for the banks to clear the amount. Please allow 7-10 business days for the funds to clear into Australian accounts and up to 21 business days for international accounts.
Accountability/Misconduct:
All Service Operators have the right to provide client feedback and to cancel bookings based off of feedback from other Service Operators.
Please enjoy your travel experience in a kind and responsible manner.
Cairns Tours/Mr Travel will treat this as any normal client cancellation and therefore the cancellation fees stated in the Client Cancellation Policy will apply.
Please note it is the responsibility of ALL passengers travelling to advise both your travel agent at the time of booking and at check-in before departing of ANY medical conditions including food allergies you may suffer from.
Thank you for booking with Mr Travel/Cairns Tours. If you would like any advice or assistance in arranging accommodation, transfers or additional tours, please do not hesitate to contact us.
Reviews
Overall Rating
4.9 / 5.0
Based on 31 reviews
Reviews by our Cairns Tours customers
Had a fantastic day, our hosts Damien and Bruce were fantastic. Would recommend to anyone.
We have had four weeks in Australia and this has been our absolute highlight! We had four opportunities to dive, the equipment was all great quality, the crew were incredible, food was delicious, cabins were comfy and we also got amazing weather. I highly recommend this trip.
We had a great day in this tour, got to see loads of interesting things and our guide (Roger) was super friendly and informative!
Dominic Briggs
, 08 May 23
Great day trip. Our guide was lovely and had a great wealth of knowledge. Our highlight was the boat cruise and seeing the crocs in the wild!
nice crew, various activities, well-equipped campsite, fun trip
We had a great guide and the spots we visited were beautiful and interesting.
Really great day! What a beautiful part of the country, so much wildlife. The kids loved the croc tour, and the smoke ceremony at Mossman Gorge was great! Ice cream stop was a nice touch, and of course loved by the kids as well.
I didn't even know there was rainforest in Australia so cape trib was such a cool surprise! The croc tour was my fave part since I wanted to see some of the scarier animals in Australia and we saw my first ever crocodiles and snake. There was this really cool big bird on the road as well that we were told was super dangerous so that was a good addition! The view from the lookout is pretty good, and the beach is really nice. Mossman is awesome as well and the ceremony is really cool. The guides on the bus and the one on the boat are all great and so knowledgeable as well. Absolutely loved it!
Carlota Narvaez
, 16 Aug 22
A beautiful drive up by the sea, good food, friendly guides, and loads of wildlife. I loved this tour, may be my favorite tour in Cairns!
Really great tour guides. A fun trip and really informative, loved the stop for ice cream
Loved seeing the rainforest! There was so much around and the tour guide explained everything we asked about. The beach is beautiful even if you can't swim there. I really want to take my parents later in the year!
Good tour. The guide was very helpful and the aboriginal ceremony at Mossman was interesting. We saw many crocodiles.
I had such a great trip, saw 6 crocodiles and even saw cassowaries
One of the best things I have done in Australia. I wanted to see rainforest and crocodiles when I came here and saw lots of both.
Really great day but very long. The scenic drive is so pretty, but there is so much driving! Worth it though. The walk is so pretty and the ice cream was surprising for definitely being a tour highlight
What a tour! The crocodiles were fighting over a dead pig, it was amazing to see. The smoke ceremony was so cool to experience.
I wanted to see wildlife and we saw so much. There was a HUGE snake on the road, loads of baby crocodiles in the river and the giant Scarface crocodile, and we saw a dad cassowary with chicks crossing the road! Amazing amazing trip!
I had a great time. The crocodile tour is fantastic and the place is really nice and scenic. It's good to cap it off with the ice cream. I really recommend.
Very good day to go see the rainforest crocs beach and walks
Sofia Choudhury
, 01 Mar 22
We had a fantastic time out at cape tribulation. The tour guides were really good and interesting, and we saw some really cool stuff. The beach is so pretty. It was really cool seeing 2 crocodiles.
It may be a long day but it's well worth the time to go up and enjoy the oldest rainforest on earth.
I had a very nice time out on the tour, with lots of awesome things to see, and a really pretty drive.
I had a great time, though the weather was a bit all over the place. It bloody tipped it down around 2pm. It is the wet season in a RAINforest so I get it! Other than the rain it was a great tour with pretty scenery and great wildlife.
What a great time! The tour was really interesting and the guides really good. Only saw 2 crocs because of the heat but 1 of them was the big toothless giant. The ice cream was definitely appreciated wit the weather as it was!
Maybe a little too hot this time of year! Such a good time despite the heat and brief smattering of rain. The animals seemed to like it though; there was wildlife everywhere! Tons of birds and a few snakes on top of the crocs and a cassowary
Annika Zimmermann
, 29 Oct 21
This is a very nice tour, I really enjoyed it! It was great seeing crocodiles in the wild and there was so much life in the jungle walk! The beach is so pretty even if there is no swimming!
The Welcome to Country was perfect for a first touristy thing to do! So good and just what I was hoping to see in Australia. I wasn't expecting to see so many crocodiles so soon in the country! Don't think I'll be swimming anytime soon! I didn't even know there was rainforest in Australia, I thought it was all deserts and swamp so this was a really cool surprise.
Had a great time up in the Daintree. Such a cool part of Australia. Mossman was great as well.
Rich Charlesworth
, 05 Aug 21
This is a fantastic trip! Well worth spending your day up in the rainforest, only wish I could have stayed longer. The crocs tour and the smoke ceremony are the best parts. The whole tour is brilliant.
Calum Burgess-Wylie
, 15 Jun 21
Came along mainly for the crocodile tour and was not disappointed: 5 adults, 2 juveniles, and at least 10 babies; as well as a huge scrub python, frogmouths, beautiful kingfishers; a great time! Cape Tribulation itself is beautiful, the rainforest is stunning and the beach is lovely. We even saw a crocodile from the viewpoint giving us a good reminder of why you don't swim there! The scenic drive is also fantastic, so great I found myself staring out the window both ways!