What are the Ribbon Reefs?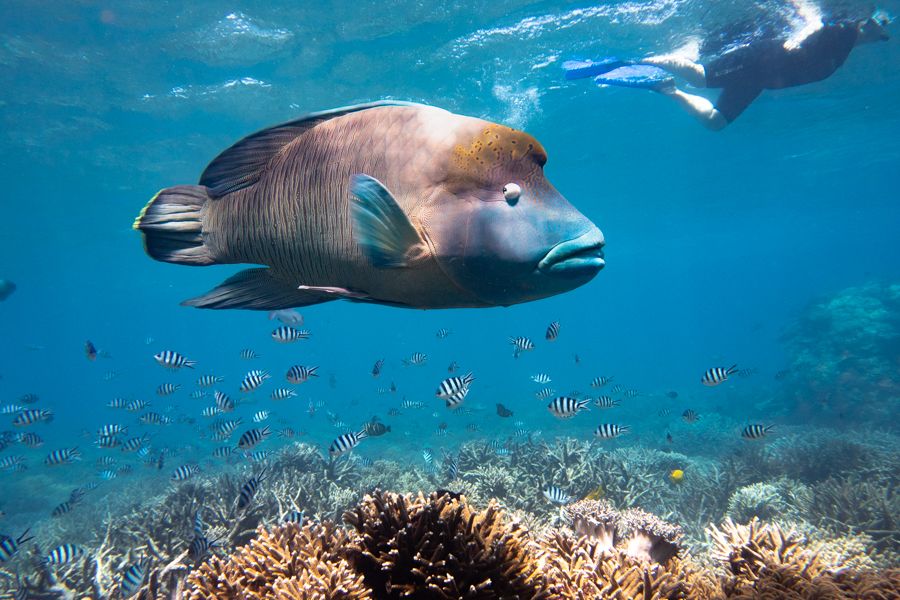 The Ribbon Reefs are a collection of long, narrow reefs stretching for over 100 kilometres in the northern regions of the Great Barrier Reef. They run between the coasts of the secluded Lizard Island (Dyiigurra) and Cooktown (Gungardie) and have depths ranging from 4 metres to 30 metres. The sheer size of the Ribbons requires that they be broken down into 10 smaller sections, Ribbon Reef #1 to #10. From iconic reefs like Dynamite Pass to Lighthouse Bommie, these numbered 'districts' are made up of even smaller collections of dive sites.
Among the Ribbons' many treasures is the world-famous and fan favourite Cod Hole. If you hadn't already guessed, this dive site is named after its high and healthy population of cod — giant potato cod, that is. These big friendly giants can grow up to 2 metres in length and usually weigh in around the 100-kilo mark. They love visitors and are known to get up close and personal with divers, swimming against them and even eating out of their hands. Most operators that visit Cod Hole facilitate hand-feeding sessions.
Other popular dive sites at the Ribbon Reefs include Challenger Bay, Clam Gardens, Flare Point, Joanie's Joy, Monolith, Pixie Pinnacle, the Snake Pit, Steve's Bommie, Two Towers, Vertical Gardens and Wonderland.
---
Why are they called the 'Ribbon' Reefs?
Although local Aboriginal people have fostered and maintained a relationship with the reef and sea for over 60,000 years, it was cartographer Matthew Flinders who gave them the name we use today. Lieutenant James Cook first commented on their 'labyrinth'-like nature in 1770 after a collision with his ship, the HMB Endeavour. Decades later Matthew Flinders, after a few collisions himself, christened them the Ribbon Reefs for he felt navigating their web of passages was like 'threading the needle'.
What once made the Ribbon Reefs so difficult to navigate is what makes them such an enchanting dive site today. Their size, their giant bommies, their many walls and maze of sandy passages, all these dramatic features make for a diver's paradise. The Inner Ribbons offer the greatest protection and visibility, with minimal intruding currents to disturb guests or marine residents. The Outer Ribbons' jaw-dropping wall drops, on the other hand, present more of a challenge and require the confidence of an experienced diver.
---
The best time to see the Ribbons
As with most reef-centric holidays to Tropical Far North Queensland, the best time to visit is from May to October. Not only is the threat of deadly stingers and rays exponentially lower during the winter to mid-spring months, but the average temperatures on land range between a refreshing 18°C and a summery 27°C. The average water temp for the Ribbons around this time of year is 22°C and can reach up to 29°C in summer. You'll also cop far better visibility and water conditions from May to October as it falls outside of Queensland's hairy storm season, which is known to wreak as much havoc on the reef as it does on land.
If you align your visit with migration season (May to July) you're also likely to score an encounter with huge pods of dwarf minke whales. The dwarf minkes migrate north from Antarctica every winter for warmer waters to breed and raise calves in. They're no strangers to visiting divers and are known to put on a show!
---
The best way to see the Ribbon Reefs
Though remote, the Ribbons are extremely popular with operators. Get in quick and book ahead, though, because they're just as popular with tourists and tours often sell out. Due to their sprawling size, we recommend liveaboard tours as the best way to see the Ribbons. Liveaboards are able to provide guests with ample time to explore several dive sites, comfortable accommodation in an exclusive location, and even night dives! Most tours visiting Cod Hole (be they 3-day or 7-day) will include at least a couple of expeditions to other Ribbon Reef sites.
If you're heading to Lizard Island to camp at Watson's Bay or glam it up at Lizard Island Resort, the whole island is a great jumping-off point for any Ribbon Reef adventures. In fact, this is one of the few islands in the region that has such supreme snorkelling so close to the shore! Simply strap on your goggles and dive into an underwater wonderland mere metres from the powdery white sands.
Whilst the Resort will set you back as much as $16,000 a night, you can camp at Watson's Bay for as little as $70 — and that's for a total of 10 nights! As with liveaboards, camping permits sell out far in advance, so we recommend planning ahead.
---
Bring your sweet dreams of snorkelling through the Great Barrier Reef to fruition and start planning your getaway today! Chat with our amazing and insightful travel experts for any tips and tricks you need to make your dreams come true.