How to Get to Cod Hole From Cairns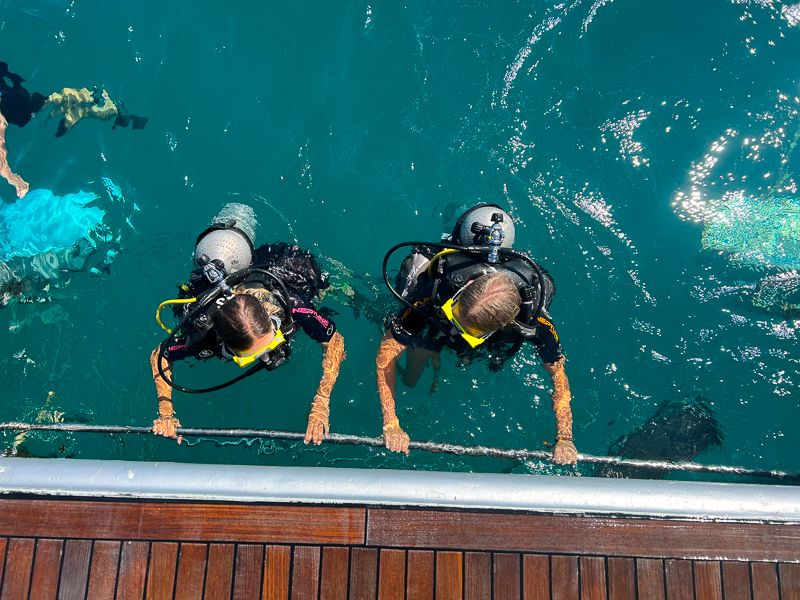 The best way to get to Cod Hole is on a thrilling liveaboard tour of the Ribbon Reefs. Leave your troubles on the mainland and set sail for the pristine and protected waters that make Cod Hole one of the world's best dive sites. With depths between 3 and 40 metres, great visibility and protection from currents, Cod Hole is perfect for snorkellers and divers of all skill levels. Not only are the conditions killer, but the scaly inhabitants are larger than life. Seriously, the giant potato cod that live here are bigger than the average human and they aren't afraid to get up close and personal for comparisons.
Cod Hole is situated along Ribbon Reef #10 in the Great Barrier Reef's northern region, just off the coast of Lizard Island. Lizard Island is a popular layover and jumping-off point for access to the dive site, with many operators kicking off tours with a scenic flight to the island followed by a 50-minute boat ride to the reef.
Departing from Cairns, the best tours that visit Cod Hole are:
---
Giant Potato Cod and Co.
Whilst the giant potato cod are the stars of Cod Hole, their population has dwindled rather miserably in the past few decades. Home to as many as 25 giant potato cod at one time, now less than half remain. Thankfully the site has a 'Sensitive Location' classification and is protected by the Great Barrier Reef Marine Park Authority, meaning that no more than 60 divers are permitted on the reef at one time. Hopefully, this reduction in traffic encourages their repopulation. However, it would be worth engaging your tour guides in some conversations on reef preservation and restoration.
The potato cod aren't the only giants at Cod Hole. From the vibrant and eye-catching M?ori wrasse, trevally and flowery cod to giant clams that weigh up to 100 kilograms, everything seems to be bred bigger here. But don't let the big boys cast a shadow over the smaller species hiding amongst the gardens of acropora corals!
You may even see an itsy-bitsy puffer fish explode to three times its usual size, the electric shimmer of the technicoloured parrotfish, or a lionfish shaking out its spangled mane. And if you're eagle-eyed you might even see a shoal of pygmy seahorses galloping between corals. Quite the opposite end of the scale to the two-metre potato cod, the pygmy seahorse grows to as little as one and a half centimetres.
And if you're lucky enough to have beaten the crowds and secured a highly coveted spot on a June/July tour, you're more than sure to catch sight of dwarf minkes and humpback whales on their annual migration. You'll want to pack your GoPro for this one.
---
Neighbouring Reefs
Cod Hole lies within the tenth division of the Ribbon Reefs and is surrounded by a treasure trove of other worthwhile dive sites. As well as stopping at Cod Hole most operators will throw in a few other Ribbon reef sites into the tour, depending on the length of your liveaboard tour. Other reefs include: Challenger Bay, Clam Gardens, Flare Point, Joanie's Joy, Monolith, Pixie Pinnacle, the Snake Pit, Steve's Bommie, Two Towers, Vertical Gardens and Wonderland. The longer the tour, the more of the Ribbons you get to explore!
---
Your Cod Hole adventure awaits! Book now before tours sell out, and chat with our travel experts for any other tips or tricks you need for ironing out your holiday plans.