Best Liveaboards for Backpackers
Sick of sleeping in hostels? Gather the buddies you've made along your travels and book yourself in for a once-in-a-lifetime opportunity to sleep on the Great Barrier Reef! Spend the days diving deep beneath the sea amid colourful corals and fish, lounging in the sun, and skinking tinnies with your mates. Come night, keep the good times rolling by embarking on a nocturnal dive where you'll see the reef come alive in a completely different way to the waking hours.
---
Why Book a Liveaboard Tour?
Liveabaord tours are hands down, without a doubt the best way to experience the Great Barrier Reef. Not only do you get to spend the days diving deep blow the surface of the sea exploring endless sprawling coral gardens, but come night you can return to the depths to see the reef's nocturnal creatures come alive under the moonlight. Not to mention, there's nothing quite like falling asleep to the gentle rock of a boat and certainly nothing like waking up to panoramic vistas of the vast, glittering Coral Sea.
Liveaboards are suited to all diving and snorkelling levels, too. For experienced divers, this is a great way to put your skills to use! For beginners, you can spend the days learning the ropes, levelling up and graduate to professional by the end. And if diving isn't your thing, no worries! Simply spend the trip snorkelling alongside the divers. Snorkelling is often the cheaper option of the two, as diving incurs additional costs for gear.
Not only will you get the best of the Great Barrier Reef, but you'll also become tight-knit with your crew and co-divers. Spend meal time trading the sights you've seen under the sea, travel stories and playing games. All liveaboards come with onboard chefs and buffets, so you won't have to lift a finger in the way of cooking — always an added bonus!
So, without further ado, these are our top 4 liveaboard boats for backpackers (listed by price range for your convenience) ...
---
With the low low prices of $725 to $915 per person (snorkelling and diving, respectively), Oceanquest is by far the cheapest liveaboard option. Embark on up to 11 snorkels on the Outer Reef, or upgrade to diving if you're interested in completing your PADI course to become a certified diver. On the first night, divers will be invited to indulge in an evening dive with reef sharks, and on the second, another night dive complete with special fluorescent lights that will illuminate the reef like aurora borealis.
When the day is done, retreat to your spacious cabins with private ensuites for some downtime, or hit the onboard bar to trade tips and tricks on snorkelling and diving. Oceanquest also offers pickups from your hostel, eliminating any added stress to find your way to the marina.
---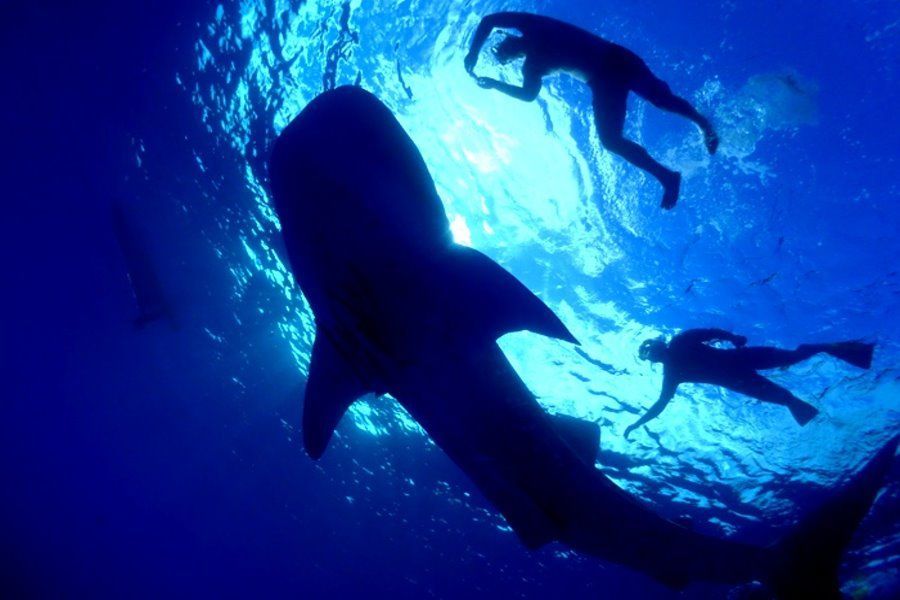 Starting at $795 per person, the Rum Runner accommodates for up to 16 reef-seekers, making for a more personalised and intimate experience. Venture to Holmes Reef, one of the Great Barrier Reef's most remote diving destinations, for three days of up to ten dives! Explore the underwater caverns and caves, coral walls, towering bommies and pinnacles as you glide from Nonki Bommie, the Cathedral, the Abyss and Predator's Playground — just to name a few. This is a great tour for shark enthusiasts as Holmes Reef is teeming with the toothy fellas. But rest assured, every measure is taken to ensure your safety whilst visiting their neighbourhood.
On the second night, you'll have the option to embark on a night dive where you can see the more elusive creatures come out to play. And if you plan on getting litty post-dive, don't forget to pack some booze, because this boat is BYO only, baby. Experienced divers are also able to cut down on cost by bringing their own diving gear!
---
With a maximum capacity of 32 passengers at $875 per snorkeller and $1034 per diver, Pro Dive's 25 metre liveaboard is perfect for big groups of friends. This is also a great tour for those wanting to expand their diving skills, as there are a number of introductory dives (payable onboard, should the mood strike) and a PADI course on offer. Enjoy up to 11 dives over the three days, as well as two night dives for certified divers!
Your destinations include Flynn, Thetford, Milln and Pellowe Reef, with over 19 individual sites to explore within those. Expect to see a vast array of oceanlife, like giant clams, sea turtles, reef sharks, and thousands of vibrant tropical fish.
---
Reef Encounter is probably the best tour for those wanting to transition from snorkelling to diving. With one dive instructor assigned to a maximum of four students, you're certain to get the best and most personalised attention and guidance as you find your flippers in the water. Starting at $1095 per person for three days, this is certainly one of the more expensive tours on this list, however the attentive teaching styles makes every cent worth it.
As you learn to dive with the pros, take in the sensational underwater vistas of the Outer Reef. Swim alongside turtles and reef sharks as you glide over coral bommies, vertical coral gardens, and over the edge of drop-offs. Put your growing skills to the test on a mind-blowing night dive, and witness an intimate account of how the reef changes form under the cover of moonlight.
Indulge in a glass bottom boat tour as a fun little extracurricular activity and see the reef from a different point of view. Enjoy chef-prepared meals over the course of your tour and snack on fruit and nibblies between mealtime.
---