Divers Den Liveaboard Open Water Course
CLOSE
View More Thumbnails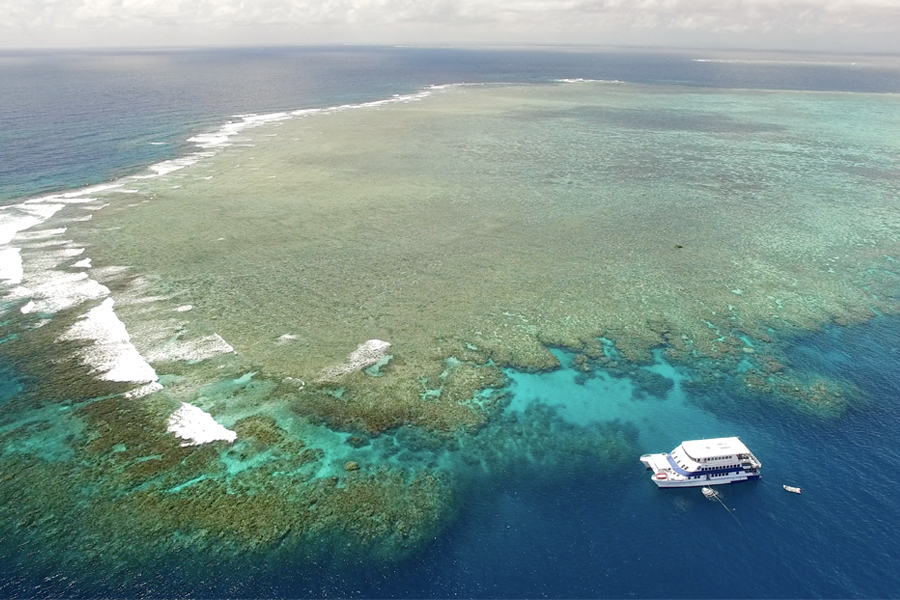 Loading...
Departure Times
Departs: 8:00am - Daily
Returns: 4:45 and 5:30 - Daily
Join Divers Den to earn your open water certification in an immersive course and walk away as a certified diver
Earn your PADI open water scuba diving certification
Learn how to be a confident and qualified diver
Spend 1 or 2 nights at sea - your choice!
Choose how many days you want to combine with your on land learning with nights on our liveaboard vessel, OceanQuest
Earn your PADI Open Water certification alongside Divers Den and get to explore the beautiful and breathtaking Great Barrier Reef. As one of the best places in the world to dive, you'll have the chance to see it all up close as you work your way towards your PADI Open Water. For two days on land, you'll take part in our instructional classes, as well as practical lessons in our heated and covered pool at our training facilities on land, before heading out to OceanQuest to dive on the reef itself. With spacious, comfortable rooms, complete with ensuite bathrooms, you'll feel right at home out in the middle of the big blue, surrounded by the amazing reefs, sand beds and colourful marine life. You can choose from 1 or 2 night options, depending on how many nights you want to spend at sea!
Let our highly trained instructors teach show you around the reef and teach you how to safely dive, and you can swim away with your open water certification!
---
Features
Two days of classroom learning
1 or 2 nights on OceanQuest Liveaboard vessel
Heated, covered pool
Modern training facilities
All equipment included
Open to do night dive with 5 day, 2 night package
Chance to dive on the famous Great Barrier Reef
Spacious rooms with ensuite
All meals included onboard OceanQuest
See the amazing wildlife
17 moorings to choose from for optimal conditions
Underwater torch for night dives
Chance to do Sharks in the Dark Dive on the second night
Fluorescent diving offered
Earn your PADI Open Water Certificate (18m)
---
Itinerary
You can choose from two packages to complete your Open Water certification:
Overnight Experience 4 days, 1 night: 2 days classroom learning, 2 days on OceanQuest (1 night): 5 dives in total, including 4 training dives and 1 fun dive
Night Diver Package: 5 days, 2 nights: 2 days classroom learning, 3 days on OceanQuest (2 nights): 9 dives in total, including 4 training dives and 5 fun dives with a night dive
DAY 1
9:00am pick-up from your city accommodation
Classroom theory
Dive medical to AS 4005.1 (if required)
Dive equipment selection pool training
Approximate 5:00pm return
DAY 2
9:00am pickup from your city accommodation
Pool training
Classroom theory
Approximate 5:00pm return
Please note tht one the first two days meals, accommodation and medical costs are not included. The first two days are the same for all packages, and with days three, four or five depending on how long you spend a sea.
DAY 3
7:30am pickup from your city accommodation
Transfer out to the reef aboard our day trip boat and do your first 2 training dives
Lunch (included)
At 2:30pm transfer to our Liveaboard boat where you will spend the night
Lunch, dinner and accommodation included
DAY 4 and 5 (or your last day)
Breakfast, finish training dives
Lunch (included)
Certification as open water diver
Afternoon pleasure dive
Guided night dive
Breakfast, lunch, dinner and accommodation included
5:00pm return to your accommodation (on last day)
This popular diving option gives guests to do it all during their tour. This is one of the only tours where you can complete your certification on board and still have time to participate in night diving, including our Floro dive or Sharks in the Dark. There is unlimited snorkelling, and all meals are included as well. This popular tour is an amazing way to see the best parts of the Great Barrier Reef and its amazing inhabitants!
---
Important Information
Please note the English course is offered daily except Wednesdays. Japanese Open water dive course starts on a Saturday German Open water dive course starts on a Monday. Guests must be able to pass 200m swim test and 10 minutes treading water test. Students must be at least 12 years of age, and divers under 18 need parental or guardian consent.
Please click here for more diving information and to read the medical questionnaire.
BOOK WITH US TODAY! CALL (07) 4914 2425 IF LOCAL
What To Bring
Swim suit
Towel
Money for lunch days 1 and 2
Money for on board bar during overnight stay
Small overnight bag
2 passport photos
What's Included
PADI Open Water Manual
Air fills
All Equipment
All meals whilst onboard
SCUBA / Snorkel equipment
Wetsuit / Stinger suit
What's Extra
Reef and Port Authority charge (includes $3.50 EMC, fuel levy, Port & Administration charges & GST $16.50) per day at sea
Money for soft drinks or alcohol
Bring 2x passport photos for certification card
Please click here for more diving information and to read the medical questionnaire.
Transfers from the Northern Beaches $60.00 Payable on the day of travel
Bar purchase
Medical
Terms and Conditions
All departures and itineraries are subject to weather. Tours may be changed or cancelled for any reason at the discretion of the Tour Operator. It should be noted that adventure travel involves risk. Whilst we make every effort to safeguard clients, we cannot be responsible for personal injury or loss due to actions of our clients which are beyond our control. We recommend that all clients have travel insurance covering illness, injury, loss or damage to personal belongings and not being able to travel on the confirmed date of departure. Please be aware operators pass on credit card merchant fees so there is a non-refundable 1.5% surcharge for VISA, MASTERCARD and AMEX card purchases.
Cancellations
All cancellations made result in 25% cancellation fee of the total price. Any cancellations made 60-30 days prior to travel will result in a 50% cancellation fee and any cancellations made inside of 30 days to departure will result in forfeit of full trip fees. If the sailing company has to cancel the trip (prior to the boat's departure) and we cannot offer a suitable alternative, then a refund will be given minus card fees. We strongly recommend that you have travel insurance, especially during the wet season.
DAY 1- Failed Medical*; 75% refund. Cancellation for any other reason a charge of AUD$160.00 DAY 2- AUD$230 cancellation fee. AFTER DAY 2 - No refund will be given. Day trip Course Schedules can NOT be altered
Medicals are no longer mandatory but may be required on completion of self-assessment form. Copies available here http://www.diversden.com.au/medical.htm
*If Student fails medical they have a choice regarding the course manual: they may return the manual in AS NEW condition (for a full refund) or retain the manual, in which case the refund will be reduced by AU$105.00.
Please note it is the responsibility of ALL passengers travelling to advise both your travel agent at the time of booking and vessel check-in agent before boarding of ANY medical conditions including food allergies you may suffer from.

Thank you for booking with Mr Travel/Sailing Whitsundays. If you would like any advice or assistance in arranging accommodation, transfers or additional tours, please do not hesitate to contact us.