East Coast Build Your Own Package
CLOSE
View More Thumbnails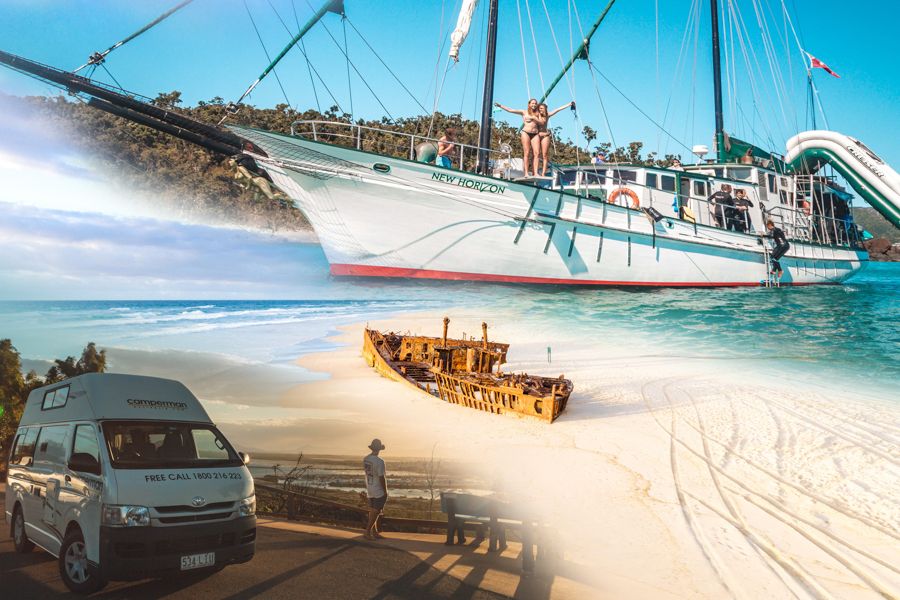 Loading...
East Coast Build Your Own Package Features
Custom build a package to suit your needs
Choose from budget to luxury
Huge range of products
Travel the East Coast your way

You can choose from one of our already popular East Coast packages or build your own. We can build an East Coast Package and save you money on tours, customising a tour that's ideal for you! Our massive buying power can save you heaps and our experienced team of travel experts can guide you on the best places to visit, planning your perfect East Coast tour.
---

Fraser Island
Fraser Island is one of the most unique locations in Australia. It's the largest sand island in the world and is home to ancient rainforests, crystal clear lakes, tranquil flowing creeks, winding 4WD tracks, and an abundance of Australian plants and wildlife. It's an adventurer's playground, and with so much to see and do, it's one of the best places to visit and vacation in the country!
Fraser Island is found on the Fraser Coast and is reached by a ferry boat from either the Rainbow Beach area or Hervey Bay area. Day and overnight tours venture to Fraser, allowing guests to spend up to several days exploring and enjoying this beautiful part of Australia. Tour types to choose from include 1 day, 2 days and 3 days, with both tag-along tours and guided tours available. Tag-along tours allow you to drive a 4WD vehicle on the island, following a lead car, while a fully guided tour is often times conducted from a 4WD bus. There are many different accommodation types on the island with a type of tour for everyone.
While on Fraser Island you can look forward to visiting some of its major attractions such as Lake McKenzie, Eli Creek, Champagne Pools, Maheno Shipwreck, 75-Mile Beach, Indian Head and more. Each tour has a different itinerary that is dependent on both the length of the trip and the change of the tides, as you use the beach track to reach most places.
Visit Fraser-Tours for more information on how to book your upcoming Fraser Island adventure.

---

The Whitsundays
The Whitsundays are a group of 74 islands found in the Coral Sea; islands full of palm trees, beaches and resorts and fringed by vibrant coral reefs teeming full of life! The region is known for its amazing sailing conditions, offering many overnight and day trips that visit the islands and their best locations! You can look forward to snorkelling, scuba diving, and beach hopping from here, with beaches such as Whitehaven Beach and Langford Spit not far from reach.
The Whitsundays are a sailor's paradise - with calm anchorages, sheltered bays and open passages, any boat tour here is bound to imprint in your memory! There are both sailing vessels and powerboats; tall ships and small ships; rafts and catamarans, giving you plenty of options to choose from! There are several tour types that explore the Whitsundays including catamaran trips, backpacker trips, small group sailing, scuba diving trips, family trips and more. Travellers from all over the world visit Airlie Beach and the Whitsundays to experience all it has to offer. Each and every tour will take you to unforgettable places to form lasting memories, both above and below the waterline!
Visit Sailing-Whitsundays for more information on how to book your upcoming Whitsundays trip.
---
Cairns and the Far North
Cairns is the gateway to the Great Barrier Reef and Far North Queensland. It's the northern destination for many people visiting Australia and is a great start or end point to any East Coast tour. From here, you can visit many places and can look forward to seeing reefs, waterfalls, forests and more. It offers the perfect place from which to base your travels, with all the comforts you could want during your stay. Cairns has many different tours on offer from overnight and day tours, to skydiving, bungy jumping, scuba diving and more!

Great Barrier Reef
Cairns is the gateway to the Great Barrier Reef with many day tours and overnight tours departing from here. It's one of the best places to visit in Australia if you like snorkelling or scuba diving, as the reefs here are diverse, colourful and full of life! You can also visit tropical islands, such as Green Island, which is not far offshore from Cairns.
Atherton Tablelands
The Atherton Tablelands are a mix of savanna, rainforest and wetlands and is home to the Waterfall Circuit, a famous loop that includes Millaa Milla Falls, Ellinjaa Falls, Josephine falls, Dinner Falls and more. It's a photographer's dream and offers plenty of places to swim and explore. There are several tours that include this beautiful part of the far north, with both day and overnight trips available.
Daintree Rainforest
Known as the oldest rainforest in the world, the Daintree Rainforest will take you back in time, to years past and eras gone. It's even home to a modern dinosaur - the cassowary! This towering rainforest is full of native flora and fauna, making it a natural paradise.
These are just a few of the places you can visit from Cairns. Visit Cairns-Tours for more information on the area and how to book your upcoming trip.
---

Transportation
Whether making your up or down the East Coast, you will have to consider how you're going to do it! There are many transport options available, giving you flexibility as you plan your trip.
Bus
There are 3 types of bus passes passengers can choose from: WHIMit, Hop-on, Hop-off and direct.
WHIMit passes range from 7 - 365 days and allows for maximum use, giving the user as much use as they want during their time frame. This is especially useful for those who are travelling for an extended amount of time and plan to move around a lot.
Hop-on, Hop-off passes are one direction only, but allow users to get off there they want between their start point and end point. This is a great option when travelling along the East Coast if you plan to move linearly. Both Greyhound and Premier Bus offer this option
Direct travel means it's from point 'a' to point 'b' only, with no allowed stops along the way.
Car Hire
Many people opt to rent a car during their East Coast Travels, allowing themselves the freedom and dependability of their own vehicle. A car rental is a great choice if you want to visit small towns along the way, or take detours off to new places during your trip! There are both budget-friendly car options, as well as more expensive, a larger vehicle meant for larger groups and families, with something for everyone.
Campervan
Renting a campervan is the more budget-conscious type of car rental for travellers. They combine both your transport and your accommodation into one while also giving you maximum flexibility! This is a great option for backpackers as it's a great way to save a dollar or two. Rental companies include Awesome Campervans, Camperman, Jucy and Spaceships.

---

Accommodation
We can help you book your accommodation during your East Coast adventure, assisting you in choosing the perfect place for your style and budget. From luxury hotels to backpacker hostels, Australia's East Coast caters to all types of travellers!
Our team of experts will take the hassle out of booking your East Coast package! We do the leg work so you can enjoy your holiday experience! Whether it's surfing in Byron Bay, horse riding on the beach, skydiving over the Whitsundays or bungy in Cairns, there is not much we can't add to this tour to make it just perfect for you! Just live chat with us now!
More Information
What To Bring
Please refer to each individual product for a full guide on "What To Bring" for each tour.
What's Included
Please refer to each individual product for a full guide on "What's Included" for each tour.
What's Extra
Please refer to each individual product for a full guide on "What's Extra" for each tour.
Terms and Conditions
Please refer to each individual product for the full "Terms & Conditions" of each tour.
Open Date Vouchers / Gift Certificate:
Shipping Costs are in addition to the ticket price and will be added at check-out. Shipping costs are non-refundable and do not makeup part of the ticket value.
E-Vouchers incur no shipping fees.

You have 5 years to use the value of the voucher. Seasonal Price Rises will apply if travelling out the current seasons pricing. Vouchers can be exchanged for free up to the full value of the voucher excluding credit card fees and charges.
Cancellations
Please refer to each individual product for the full "Cancellation Policy" of each tour.
If you have any questions, please get in touch!
Reviews
Overall Rating
5.0 / 5.0
Based on 2 reviews
Reviews by our Cairns Tours customers
Thank you for the most amazing itinerary! Jayme helped put together exactly the trip I was looking for
I just said what i wanted and it was all organised for me! The boat trip was fun and my Fraser self drive tour was awesome!I would recommend this to all East Coast travellers.