Mike Ball 3 Day 3 Night Fly and Dive Cod Hole
CLOSE
View More Thumbnails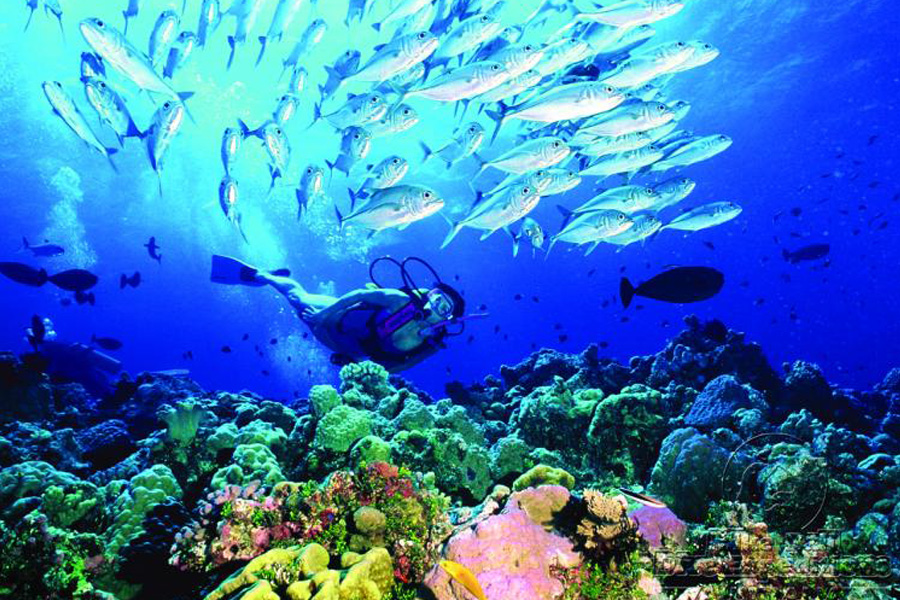 Loading...
Departure Times
Departs: 7:00am - Monday
Returns: 8:00am - Thursday
Pricing Options
$1987 AUD per Person
- Budget bunk (shared facilities)
(Between: 31 Mar 2019 and 30 Mar 2020)
$2305 AUD per Person
- Private bunk
(Between: 31 Mar 2019 and 30 Mar 2020)
$2602 AUD per Person
- Standard Private Twin
(Between: 31 Mar 2019 and 30 Mar 2020)
$2850 AUD per Person
- Premium Private Double
(Between: 31 Mar 2019 and 30 Mar 2020)
Explore the Great Barrier Reef with Mike Ball 3 day, 3 night diving trip to Cod Hole
See the reef in two of the best ways possible with Mike Ball 3 day, 3 night trip! Start with a low level reef flight where you can see the reef from above before diving in and exploring from below! For three days novice divers, advanced divers and snorkellers will get to explore Cod Hole and the Ribbon Reefs of the Great Barrier Reef for the ultimate underwater experience.
Fly and dive with Mike Ball 3 day, 3 night trip to the Great Barrier Reef! Enjoy a one hour scenic flight over the reef to Lizard Island, where your diving adventure begins! Guests will get to enjoy up to 12 dives, getting to checking out the diverse marine life of Cod Hole and the Ribbon Reefs of the Great Barrier Reef. With diverse concentrations of corals, colourful fish, amazing marine life and even sometimes minke whales, Mike Ball offers the ultimate diving experience over a 3 day tour.
Features:
1 hour scenic flight

12 dives, including night diving

Visit Cod Hole to dive with huge potato cod

Amazing reefs including Dynamite Pass, Lighthouse Bommie, Pixie Wall, Pixie Pinnacle, Trolly Shoal, Coral Kingdom, Flare Point, Blue Lagoon and Steve's Bommie

Novice and advanced divers welcome

Great for snorkellers

Chef prepared meals

Nitrox, solo diving and a rebreather service also offered

Cylinders and weight belts included
Itinerary:
Monday Day 1
2 dives + night dive
Check in bright and early to start your day by 7:15am. Next head to the Cairns airport, where guests will hop on board their one hour scenic flight to Lizard Island, getting to see the reef from above. Afterwards, guests will board Spoilsport for their 3 day adventure. Here you will find comfort, stability and plenty of space on board, where you can enjoy cruising within sheltered waters to your diving destinations! Diving starts before lunch, with 2 dives and 1 night dive on the agenda at Cod Hole, Cod Wall or Challenger Bay.
Tuesday Day 2
4 dives + night dive
Day 2 will begin with an early rise so guests can start diving by 7:00am. The day will consist of 4 dives and 1 night dive at Lighthouse Bommie, Pixie Pinnacle, Andy's Postcard, Clam Beds or Vertical Gardens.
Wednesday Day 3
4 dives
This is the last full day on board Spoilsport, where guests will get to take advantage of 4 dives at Flare Point, Joani's Joy and Steve's Bommie. In the evening, Spoilsport will host a fun Aussie BBQ where guests get to dress up in their loudest tropical shirt. Overnight, Spoilsport will make her way back to port.
Thursday Day 4
Early docking and a light breakfast on board Spoilsport before disembarking.
Possible dive sites:
The Ribbon Reefs are known for their diverse marine life, sitting right on the edge of the continental shelf with waters full of nutrients, ideal for many species of fish and coral.

The Cod Hole is known for its enormous species of potato cod. The docile species are as big as the divers who frequent the reef and are extremely friendly towards their visitors!

Lighthouse Bommie is one large pinnacle where many species of marine life are known to frequent. Home to sharks, rays, turtles and reef fish, olive sea snakes, stonefish and more, it's also one of the best places to spot minke whales in whale season!

Gotham City is named after the batfish that live there, but this site is also known for its sharks and giant trevally. It's the ideal place for night diving, due to its many species of hunting fish that make for an amazing nightly show.

Pixie Pinnacle is another pinnacle dive, centering around one diverse bommie. It's full of diverse marine life, as well as flame fire slams and disco clams, known for their flashing lights.

Coral Kingdom isn't just full of corals, but is also known for its resident giant clams, bump headed parrotfish and inquisitive barracuda.

Steve's Bommie is said to be a photographer's dream with an incredible quantity of marine life. With stonefish, clownfish, turtles, octopus and scorpionfish, this is a great place for seeing some of the most beautiful species on the reef.
---
*Please note dive site selection is based on the best dive sites available. Less experienced divers receive complimentary 'site orientations' as necessary, while experienced divers are given the freedom to plan their own dives.
Guests must be at least 12 years old to dive
Children ages 8 and up are welcome on board
BOOK WITH US TODAY! CALL 1800 550 751
What To Bring
Sunscreen

Camera

Small overnight bag with personal toiletries, towel hair dryer, personal medication, swimming costume, hat, sunscreen, sunglasses, foot wear (sandals or tennis shoes), T-shirts, shorts, sweater and sweat pants
What's Included
12 dives - Includes 2 night dives

Accommodation in twin/double cabins

Delicious meals & snacks, complimentary soft drinks and wine with dinner

Tanks, air fills and weight belt

Daily cabin service

Reef ecology programme

Dive computer workshop

Transfer to the airport or Cairns hotel after your expedition

Scenic flight Cairns to Lizard Island

Vivid Pix digital photo editing software workshop

Double and twin shared air-conditioned cabins

Spacious lounge and bar area
Please note divers must be 12 years of age.
Luggage must be under 25kgs
We can cater to all dietary requirements, please let us know at time of booking
What's Extra
Reef Tax AUD$20 payable on board
Full equipment hire AUD$44/day (cylinders and weight belts supplied free of charge)
Additional soft drinks, wine, beer, mixed drinks are available for purchase on board
Please read the following questions carefully:
Do you currently have an ear infection?
Do you have a history of ear disease, hearing loss or problems with balance?
Do you have a history of ear or sinus surgery?
Are you currently suffering from a cold, congestion, sinusitis or bronchitis?
Do you have a history of respiratory problems, severe attack of hayfever or allergies, or lung disease?
Have you had a collapsed lung (pneumothorax) or history of chest surgery?
Do you have active asthma or history of asthma, emphysema or tuberculosis?
Are you currently taking medication that carries a warning about any impairment of your physical or mental abilities?
Do you have behavioural health problems or a nervous system disorder?
Are you or could you be pregnant?
Do you have a history of colostomy?
Do you have a history of heart disease or heart attack, heart surgery or blood vessel surgery?
Do you have a history of high blood pressure, angina, or take medication to control blood pressure?
Are you over 45 and have a family history of heart attack or stroke?
Do you have a history of bleeding or other blood disorders?
Do you have a history of diabetes?
Do you have a history of seizures, blackouts or fainting, convulsions or epilepsy or take medications to prevent them?
Do you have a history of back, arm or leg problems following an injury, fracture or surgery?
Do you have a history of fear of closed or open spaces or panic attacks (claustrophobia or agoraphobia)?
If any of these conditions apply to you, you will require a Divers Medical Certificate before you can scuba dive.
Terms and Conditions
All departures and itineraries are subject to weather. Tours may be changed or cancelled for any reason at the discretion of the Tour Operator. It should be noted that adventure travel involves risk. Whilst we make every effort to safeguard clients, we cannot be responsible for personal injury or loss due to actions of our clients which are beyond our control. We recommend that all clients have travel insurance covering illness, injury, loss or damage to personal belongings and not being able to travel on the confirmed date of departure. Please be aware operators pass on credit card merchant fees so there is a non-refundable 2.5% surcharge for VISA and MASTERCARD card purchases.
Cancellations
​All cancellations made result in 25% cancellation fee of the recommended retail price (RRP), not discounted or sale prices. Any cancellations made 60-30 days prior to travel will result in a 50% cancellation fee and any cancellations made inside of 30 days to departure will result in forfeit of full trip fees. If the sailing company has to cancel the trip (prior to the boat's departure) and we cannot offer a suitable alternative, then a refund will be given minus card fees. We strongly recommend that you have travel insurance, especially during the wet season.
Please note it is the responsibility of ALL passengers travelling to advise both your travel agent at the time of booking and vessel check-in agent before boarding of ANY medical conditions including food allergies you may suffer from.
Thank you for booking with Mr Travel. If you would like any advice or assistance in arranging accommodation, transfers or additional tours, please do not hesitate to contact us.